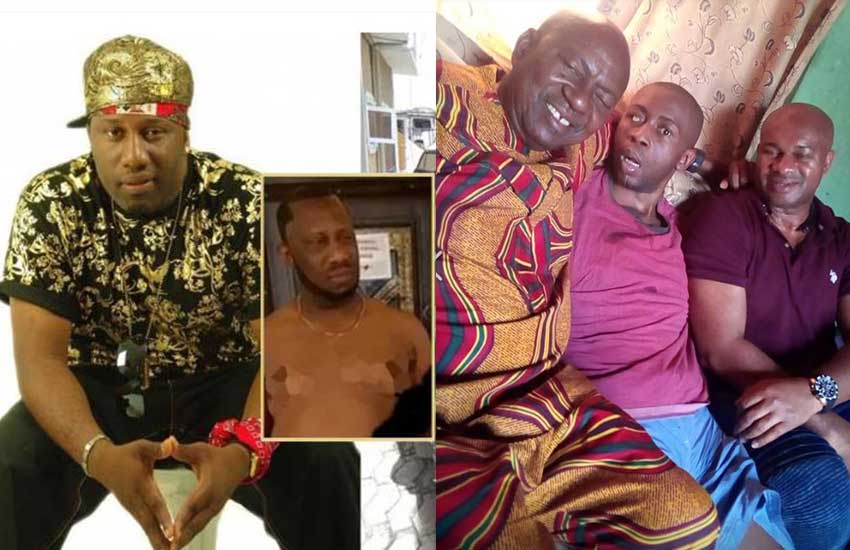 Days after a video of Nigerian actor Ernest Azuzu 'begging for alms in Lagos' hit the interwebs, the state of another star is raising eyebrows in the West African nation.
The health of 'Conspiracy' fan favourite Ifeanyi Ezeokeke aka 'Ugo Shave Me' is reportedly on a nosedive and in dire need of medical and financial assistance.
According to photos shared by fellow actors; Diewait Ipechukwu and Ejike Okoye, Ezeokeke is on a tough bend; paralysed and weak, battling an undisclosed illness.
"With Ejike Okoye on a visit to Ifeanyi Ezeokeke (Ugo shave me). Very pathetic," shared Ipechukwu as he snapped away with the frail 1990s star.
For Ernest Azuzu, his world turned upside down after he went down with stroke in 2015. Abandoned and sickly, Azuzu, in a video doing rounds turned to begging to make ends meet.
Read Also: Stop circulating Lady Maureen's photos, pleads Akothee
A point picked by Instagram user - @bolingo2014, who lamented that Azuzu's begging in the streets of Oke-Afa in Isolo, Lagos, was a disgrace and an indictment of Nollywood and the Nigerian government.
"So we are calling on Nollywood to come and assist their member. It is not only to act in the film, but this guy also cannot even walk. They need to come to his aid not when he dies they will come and do a big burial for somebody. Even the Nigerian government needs to back the guy and know what the problem is.
"I'm directing this video to Nollywood. This is a star that everybody knows that he is in this kind of condition. We saw him at Justrite Supermarket asking men for money when he has Nollywood people doing anything they like but they don't know how to help themselves,'' he said.
Read Also: Nigerians are the smartest Africans – Huddah Monroe declares
Across the border, singer-songwriter and guitarist Majekodunmi Fasheke, popularly known as Majek Fashek, is reportedly on the road to recovery after lengthy stays in the UK and American hospitals.
According to Omenka Uzoma-Day, Fashek's manager, the singer is feeling better. In a twist, Uzoma-Day claimed that only singer Olamide Adedeji, known professionally as Olamide, cared and contributed to the music icon's medical bills.
"He called me up in England and he said, Bros, sorry oh, I wan support Baba, don't discuss this with anybody and he said I must not mention this. He is the only person that supported," he narrated to Info 99.3 FM.
"He is doing better now. He is out of the hospital but he is still undergoing therapy somewhere else in New York. He can walk, talk and respond to people. He is also moving around.
"His son, Randy, is with him at the moment and he is doing a great job. I am here in Nigeria to make some arrangements and concentrate on other things but Randy gives me constant updates".
Read Also: Nigerian men causing trouble in Eastlands