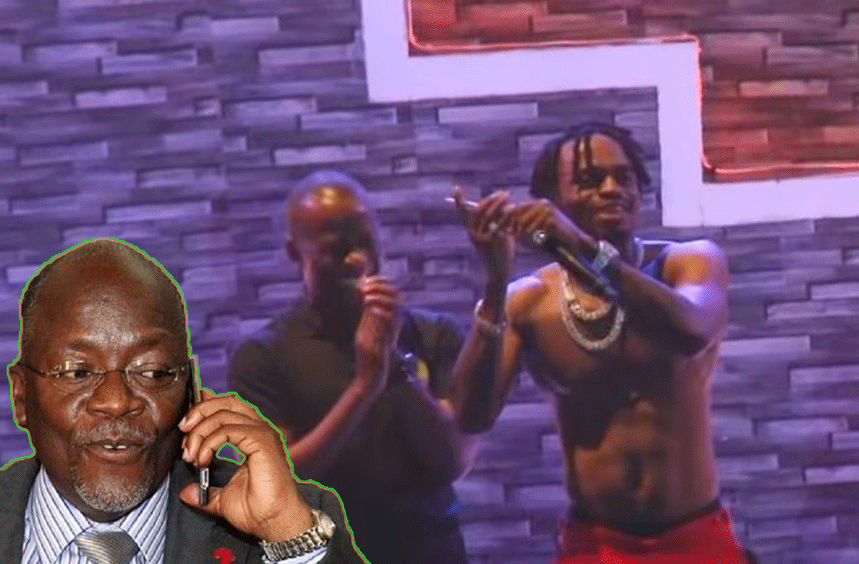 Tanzanian singer Diamond Platnumz ended 2019 on a high in Kigoma as he celebrated 10 fruitful years in the music industry after he received a pat on the back from President John Pombe Magufuli.
According to a video doing rounds, President Magufuli phoned Chama Cha Mapinduzi's Ideology and Publicity Secretary Humphrey Polepole who was in attendance.
Polepole, in turn, handed the handset to the singer who had just heaved from a high octane performance of Tetema.
With Platnumz's super manager Babu Tale in tow, Polepole watched as the thousands in attendance cheered in approval as the president's voice boomed over the sound system courtesy of Platnumz's quick fix move on stage.
"Tumsikize sasa," pleaded Platnumz amidst the thunderous applause and chants of "Babu, Babu, Babu!"
"Tunakupenda sana," he went on.
"Ata mimi ninakupenda sana," responded Magufuli.
"Nawapenda watu wa Kigoma. Ningetamani sana niwe hapo," added the head of state before delivering his new year's message and development promises.
"It was an absolute honour and great esteem to receive a call from our President Dr. John Pombe Magufuli, congratulating me on my work ethic whilst I was performing yester night on my Home coming show in Kigoma.
"Words simply can't describe how grateful & blessed I am for that Mr. President. Thank you for being a great example and phenomenal leader," he later highlighted to his fans.
Harmonize
A huge fan of the arts, Magufuli has often expressed his love for Tanzanian creatives.
In 2019, he joined ex-WCB signee Rajab Abdul Kahali alias Harmonize in song during a state function in Dar es Salaam and later narrated how he was impressed with the performance and in particular how the singer presented himself.
"Kwanza namshukuru sana huyu mpiga muziki Harmonize, kilichonifurahisha ni kuwa hata nywele zake zimefanana na suti yake, nikaona kumbe mambo yanawezekana na tai ikawa nyeusi, nikajua hawa matani zangu wa machinga (hawkers), ndo maana wanasema machinga kuchere, lakini nawashukuru sana kwa burudani nzuri," said Magufuli.
It does not end there.
A rendition of the singer's Kwangwaru hit praising the Tanzanian President was among a selected batch of songs that were used for entertainment during the 39th summit of Southern African Development Community (SADC) at Julius Nyerere International Convention Centre in Dar es Salaam.