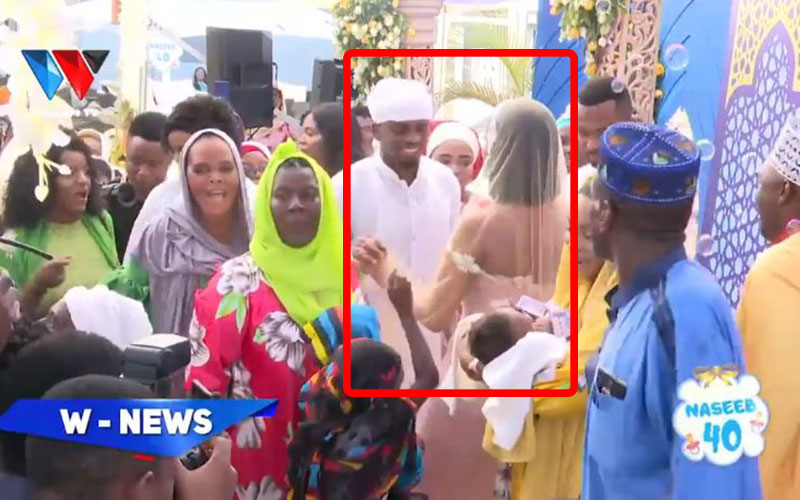 As with Diamond's first two children Tiffah and Nillan, a reveal ceremony was held after 40 days to officially reveal the children's faces to the world. The same tradition has been observed with his youngest son, Naseeb Junior who clocked 40 a few days ago.
In celebration, the elated couple took to their respective social media accounts and posted pictures of their adorable son with netizens gushing over how handsome he is.
Diamond's cute picture of baby NJ was accompanied with the caption, "Welcome to the world NJ... Daddy loves you!" while Tanasha captioned hers, "My baby NJ."
Naseeb Junior's 40
Although Naseeb Junior had turned 40 days earlier than the set date, the couple went on to celebrate their son yesterday, November 26.
Judging from the insta stories from the attendees, he invites only event held in Madale, Tanzania turned out to be really fun with a lot of dancing and performances.
Marriage next?
Now that Tanasha and Diamond have a child and are evidently happy together, many would assume a wedding would be in the offing. Truth is, Diamond is not ready to settle down in a marriage setting.
This is according to his sister Queen Darleen who clarified that her brother still has a lot ahead of him and wouldn't want him to be tied down in marriage.
"He and I often talk about matters of marriage and relationships. Diamond fears locking himself up in a marital cage. He says he wants to settle down when he is ready, and I don't think he is currently up for it," said Darleen.
Her position echoes that of Dar es Salaam regional commissioner, Paul Makonda, who not too long ago, advised the WCB CEO against marriage as it would turn his female fans off.
"When you are a male artiste whose fans largely comprise women, then know that if you marry, all the women who adore you will lose interest in you and your music. Sometimes it leaves you wondering whether it was even possible to marry all of them," said Makonda.