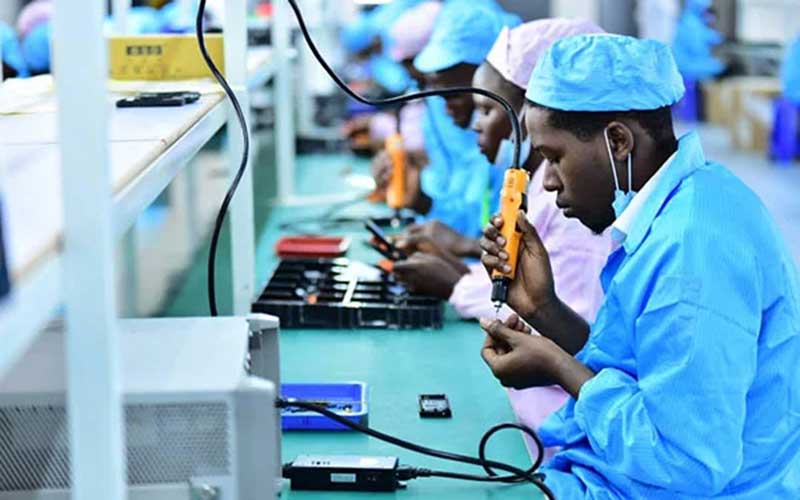 President Yoweri Museveni on Friday officiated over the launch of Uganda's first mobile phone and laptop manufacturing and assembly plant.
Located in Kampala, the plant, which is owned by Chinese firm Endo will produce handsets branded SIMI.
According to The East African, the factory will run three production lines and at maximum capacity can produce 800 laptops, 1,500 smartphones, 4,000 USB cables, 4000 earphone sets, 2,000 chargers and 2,000 feature phones.
The factory is expected to directly offer employment to 4000 workers.
Speaking at the launch, President Museveni lauded the partnership with China while pointing out corruption as a major hurdle.
"I am very happy with the Chinese solidarity with Uganda and Africa. Uganda is moving very well, the economy has grown to $35 billion using the normal method of calculating GDP.
"We don't have any other problem. We now have electricity, we are going to solve the problem of transport costs. We have also started solving the problem of ICT," he said.
While the smartphone version will sell for around Sh5,000, the feature phones will cost Sh800.
"We are going to have a reduction in the importation of phones. The message I want to send to Ugandans today is to buy the products made in Uganda for the growth, development and betterment of our country," Uganda's State Minister for Investment and Privatization Evelyn Anite said.
Today, I commissioned Uganda's first mobile phone and computer manufucting and assembling factory in Namanve Industrial Park, Wakiso District. @FrankTumwebazek @NITAUganda1 @HonAniteEvelyn pic.twitter.com/RH0m3k07GA — Yoweri K Museveni (@KagutaMuseveni) November 22, 2019
I thank the government of China and its investors for supporting us. These Chinese are not jealous, they wish us well. This factory will significantly bring down the cost of mobile phones and computers in Uganda. pic.twitter.com/lgjeecZjhg — Yoweri K Museveni (@KagutaMuseveni) November 22, 2019
Rwanda's 'Mara' smartphones
Barely a month ago, Rwanda launched two smartphones, describing them as the first "Made in Africa" models.
The Mara X and Mara Z will use Google's Android operating system and cost Sh19,000 and Sh13,000 respectively. Kagame said he hoped the phone would increase Rwanda's smartphone usage, currently at around 15%.
"Rwandans are already using smartphones but we want to enable many more. The introduction of Mara phones will put smartphones ownership within reach of more Rwandans," Kagame said.