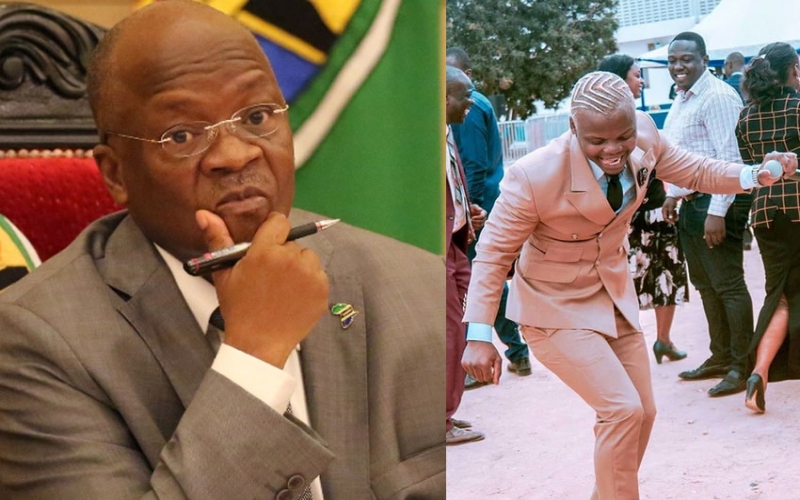 Tanzanian President John Pombe Magufuli has revealed that he was at first taken aback by the fashion sense of singer Harmonize during a state function in Dar es Salaam.
Speaking after the singer's stellar Kwangaru performance, President Magufuli disclosed that he was impressed with Harmonize's performance, and, in particular how he presented himself.
Magufuli, noted that the singer matched his suit with the colour of his cornrows; a style, he added, finally made him understand why hawkers use flowery language to sell such outfits.
"Kwanza namshukuru sana huyu mpiga muziki Harmonize, kilichonifurahisha ni kuwa hata nywele zake zimefanana na suti yake, nikaona kumbe mambo yanawezekana na tai ikawa nyeusi, nikajua hawa matani zangu wa machinga (hawkers), ndo maana wanasema machinga kuchere, lakini nawashukuru sana kwa burudani nzuri," said Magufuli.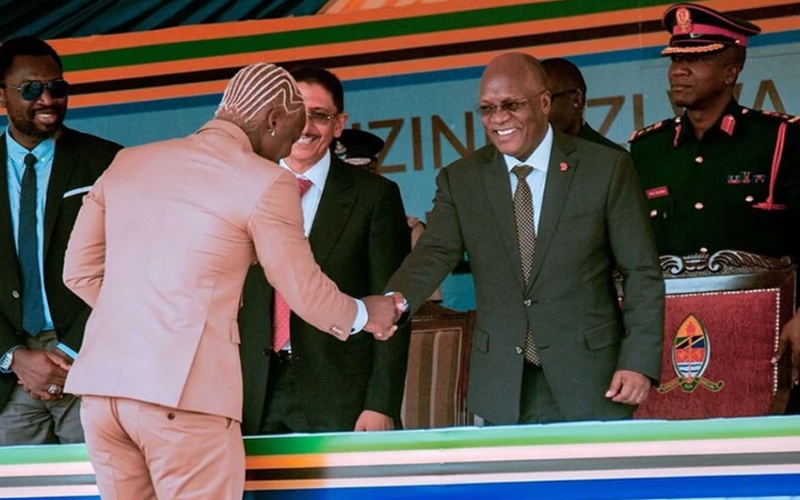 Visibly moved by the invite to perform for the head of state in the wake of his exit from Wasafi Classic Baby, Harmonize stated that he was honoured.
"Thanks for touching my life Mr President John Pombe Magufuli Mungu akubariki sana rais wa wanyonge!
"Mapema leo Na Mh Raisi John Pombe Magufuli na viongozi wengine wa serikali katika uzinduzi wa kiwanda cha kutengeneza mabomba 2019. Tunashukuru kwa nafasi hii adimu kabisa," posted Harmonize.
The performance was, however, not without drama.
During his rendition of the hit song, an overzealous fan managed to outwit security and grab the singer to the amusement of the crowd.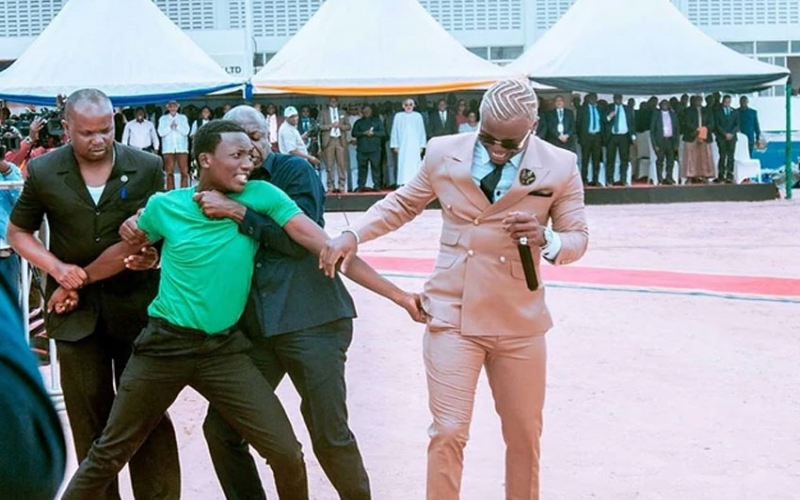 Commenting on the incident, Harmonize highlighted that he was moved by the love the fan showed him considering that there were many artists at the venue.
"Daaah we acha tuu nimeiihisabu kama baraka kubwa ambayo Mungu kwa mapenzi yake ameiweka kwangu nami nilimshukuru kwa upendo kwani kuna wasani wengi penginepo aliwaona ila kwa moyo wake wa upendo akanichagua mimi na kuning'ang'ania kwa hisia zote, wangekuwepo wakina @mudmnyama @don_chambo @buda_mkaksi baraka Hizi zisingefika ni bora waliokuwa mbali!" He stated.