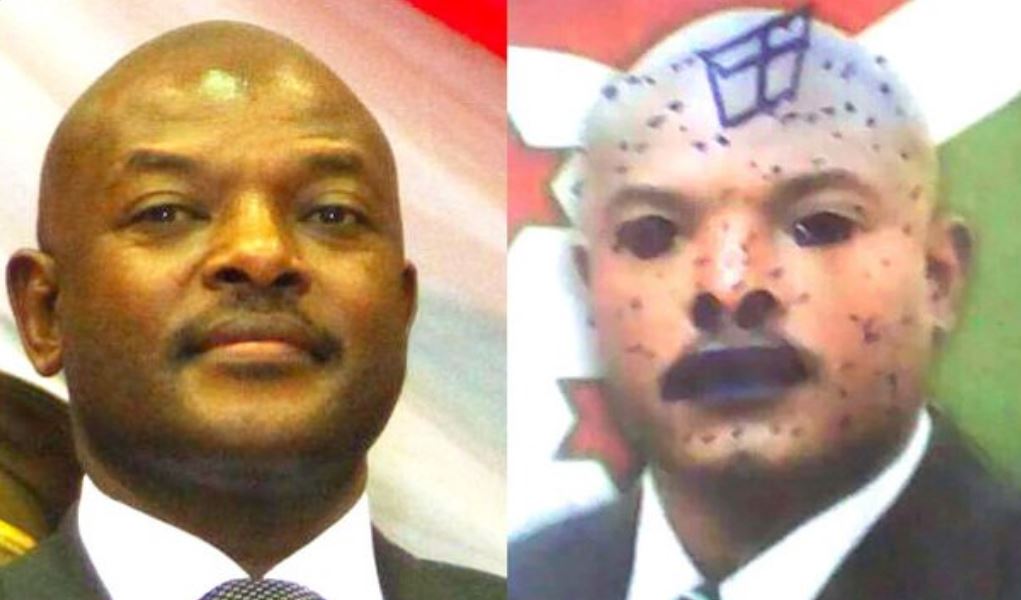 Twitter users have come out to support three school girls jailed in Burundi for doodling on a photo of President Pierre Nkurunziza in their school books.
Through the #FreeOurGirls hashtag, that tweeps shared edited photos of Nkurunziza bearing graffiti, emojis and even wigs.
This comes a week after the three students were charged for 'insulting the head of state' and could face five years in jail.
But according to Central Africa Director at Human Rights Watch Lewis Mudge, since textbooks in Burundi are often shared among classes, it's difficult to pinpoint who scribbled on the president's face.
Following detainment of the minors aged 15, 16 and 17, Nkurunziza's government has face criticism from human rights groups and the general public.
Here is a sample of the tweets:
#FreeOurGirls#Burundi: There is no reason 3 teenage girls are in prison for doodling. When textbooks are lost, damaged or defaced; it's a matter dealt with at school. pic.twitter.com/hk500iFNwg — iBurundi (@iburundi) March 22, 2019
#FreeOurGirls they didnt doodle, they just reflected the real man behind Nkurunziza pic.twitter.com/7M1q7q1nnf

— Sindumuja Musaga (@Rwanyubuja) March 23, 2019
If I did this in #Nkurunziza's #Burundi, I could be jailed #GribouilleMoihttps://t.co/V7nVxKXZ0Ppic.twitter.com/ahcO0apSQ7 — Wietske Nijman (@WietskeNijman) March 21, 2019
Nkurinziza do what you always do when you get angry.. I just drew your photo????#FreeOurGirlspic.twitter.com/t4H4xl1WeY — Count Olaf (@Olaf_Ke) March 25, 2019
Act like a Lamb (Children) doodle Nkurunziza #FreeOurGirlspic.twitter.com/Jb5b92dl2Y — Sindumuja Musaga (@Rwanyubuja) March 23, 2019
Three schoolgirls, all under the age of 18, have been detained & charged for scribbling over images of President #Nkurunziza in their school text books in Burundi.

They are now awaiting trial and could face up to 5 years in prison. Internet is doing it's thing & I'm proud. pic.twitter.com/sntMOjMKhh — Kenya West© (@KinyanBoy) March 23, 2019
History of arresting students
This is not the first time Nkurunziza's government has detained students as in 2016, Burundi National Intelligence Service agents arrested eight secondary school students for allegedly insulting the president.
The students had written phrases like "No to the 3rd term" or "Get out" on a photo of in a textbook, reported CNN.
In the same year, hundreds of children were reportedly expelled from several schools for doodling on Nkurunziza's face in their text books.
Despite massive protests and legality concerns over his decision to run for a third presidency term in 2015, Nkurunziza, who has been in office since 2005, was re-elected.