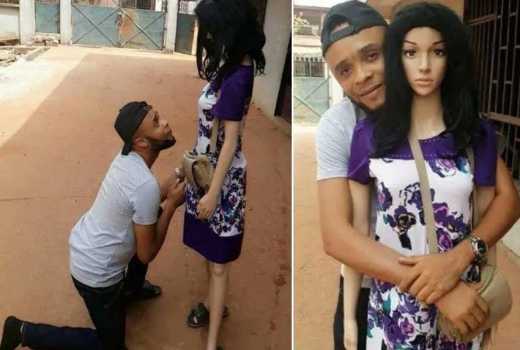 Photos of a Nigerian man proposing to a mannequin doll has gone viral on social media
The man was seen on one knee giving a mannequin doll a ring
He claims he proposed to her because he really cares about her
A young Nigerian man is trending on social media after he did an unusual thing and shared photos online. The unidentified man was spotted on one knee as he proposed to a mannequin doll he dressed up like a girlfriend.
There has been a trend on social media about dolls that would be able to act as intimately as any human woman. Since news of these human created dolls surfaced on social media, many young men have been making jokes about how easy it would be to replace human girlfriends with mannequin girlfriends.
According to Information Nigeria, the young man who could not afford the a 'Samantha' so he decided to propose to a normal mannequin doll and shared the photos of the weird proposal on social media.
The young man who is reportedly from Aba in Abia state stated that he loves his mannequin doll and he does not wish to let her go.