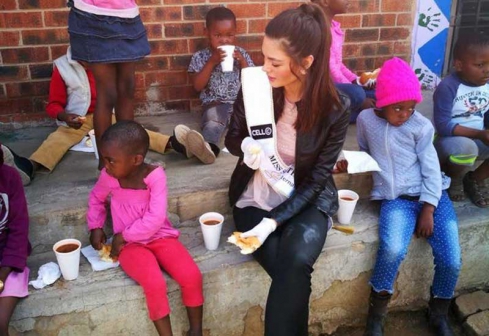 There are photos doing rounds on the internet of Miss South Africa 2017, Demi-Leigh Nel-Peters, feeding black children in Soweto South Africa. In the pictures, the South African beauty is wearing gloves as she feeds the kids.
The gesture by the beauty queen has elicitated emotions all over the internet wth most people obviously not happy with her. To some, her decision to put on gloves while working with the kids was a clear sign of racism.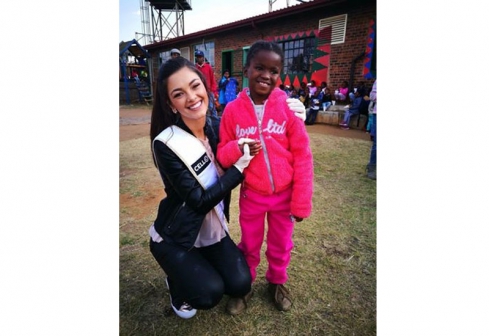 Netizens have taken the matter a notch higher and are now rolling a hashtag dubbed MissSaChallenge where they are posting funny pictures of them doing normal routines with gloves and protective gear on in the name of being hygenic.
Here are some of the posts that will leave your ribs aching:
#MissSAChallenge so the dogs better than humans right ???? pic.twitter.com/VcD7YEeYTF — Buhle Queen Boss (@buhle_boss)
Making myself a hot mix?????????
Note: Hygiene is important#MissSAChallenge pic.twitter.com/Jb94uVZXZQ — shawty? (@ZamaMbuthuma)
#MissSAChallenge studying can be hard when you have to consider hygiene pic.twitter.com/QZSn8pbMlo — Griffiths Mahlangu (@King_Mahlela)
Miss SA be like "its for hygienic purpose" #misssachallenge pic.twitter.com/UsTO9Y3ozM — The Instigator (@AmBlujay)
#MissSAChallenge wow! Is this necessary though? SA you're too much pic.twitter.com/Zk4b8f4sfC — Anti-You (@NelisiweKarma)
#MissSAChallenge When you going out and realize you forgot your gloves pic.twitter.com/DQLBE1ZWBK — Iam Soso (@Iam_SosoRSA)
When your hands are feeling a bit dry but hygiene always comes first... ???????? #MissSAChallenge pic.twitter.com/UjHuV3CHNE — wild thots ? (@amanda_mpedi)
#MissSAChallenge
Was at work minding my own business but then i remembered. Hygiene 1st pic.twitter.com/Wf81zsdTT4 — ???????? 23rd June ???????? (@Tumi_majadibodu)
Winner of the #MissSAchallenge

???????????????????? pic.twitter.com/tXsGVrLB5u — Sefularo Keamogetswe (@Sefularo_Keamo)
Me looking at twitter #MissSAChallenge cause like ya'll are dirty ???????????? pic.twitter.com/HHJJ2ECZjg — Unathi (@FirstLadyNathi)