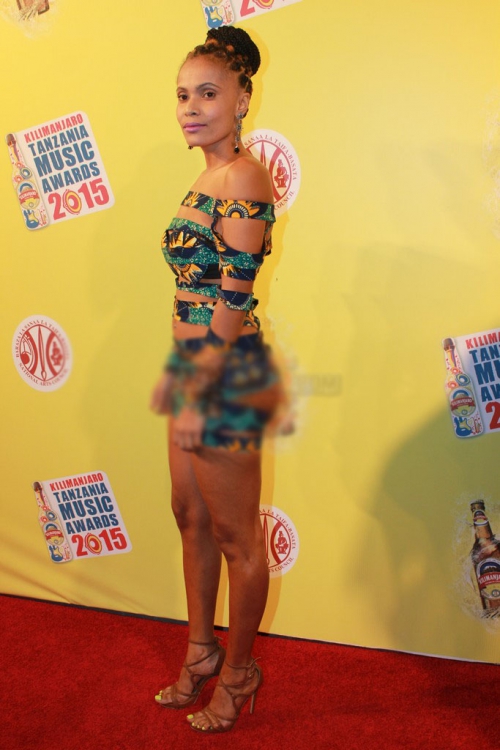 Tanzanian socialite cum actress, Faiza Ally, has revealed she regrets wearing a dress that exposed her bottom at the Kilimanjaro Awards 2015 rep carpet event.
Faiza has confessed this after her daughter's custody was revoked from her and given to her ex-husband, Joseph Mbilinyi, alias Sugu.
Sugu, rapper turned politician, filed a lawsuit asking the court to consider transferring child custody to him arguing Faiza's dress code at the annual event raised questions on how morally upright she would bring up their daughter. The Mbeya Urban MP won the case.
Speaking to Tanzania's Daily, Mwananchi, Faiza in a remorseful tone, confessed her regrets, saying she won't have the public witness a repeat of the incident "I will never repeat what I did. I will be more careful in selecting what I wear."
"Many artistes are creative and strive to do things which attract their audience's attention. However, what befell me, especially at Kilimanjaro Awards, was so unfortunate and I asked for forgiveness from the fans and will continue doing so," said Faiza in tears.
"I am used to wearing short dresses; but did not intend to expose my behind. It is by bad luck that happened. When I wore the dress at home, it looked good on me - covering my behind. I think after sitting in the car for a while, the pattern of the dress adjusted ending up in revealing my behind.
When I arrived at the event, nobody cared to tell me that my bottom was out. The paparazzi did not make it any better as they enjoyed taking photos of me. I would love to openly admit this – I am getting hurt by those who keep on sharing the photos online," said the bitter Faiza.
The diva further adds she thanks God for giving her strength at such a difficult time, saying she loves her daughter and would not want to be separated from her, "I thank God I have managed to withstand all these. I have decided to change for my daughter's sake whom I love so much. I wouldn't want to be far away from her."