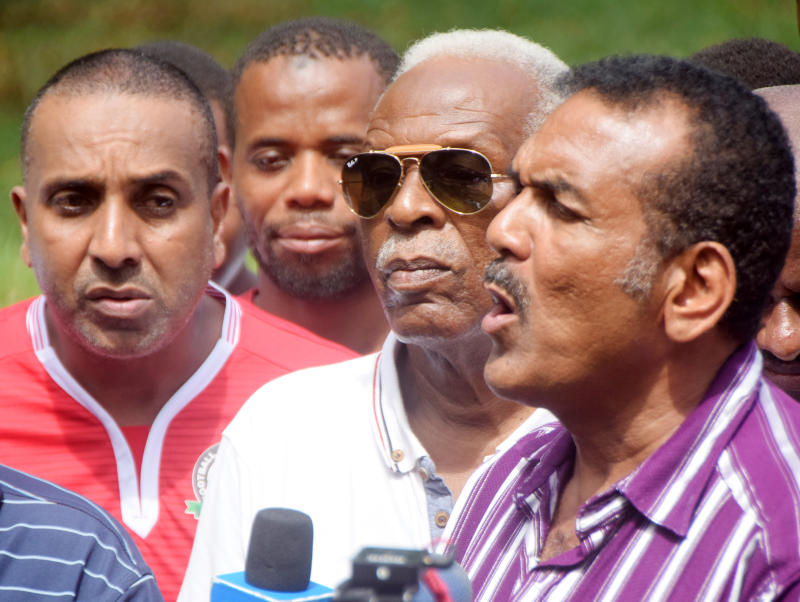 The football fraternity in the Coast region has demanded the resignation of the Football Kenya Federation (FKF) office led by Nick Mwendwa, to pave way for free and fair elections. After a shareholders meeting held at the Methodist Social Hall in Mombasa, it was resolved that the federation's top brass should resign and let the electoral board in collaboration with the Independent Electoral and Boundaries Commission (IEBC) to set new rules and guidelines for the pending election. In the resolutions read by the FKF Mombasa sub-branch Assistant Secretary Salim Ali, the stakeholders noted with concern that there will be no free and fair election if the current team of Mwendwa is in office. Salim said the region is against many roadblocks created by the electoral board to deny interested candidates from vying for positions, saying the exercise should be favorable to all candidates.
SEE ALSO: Fears as Mzima Springs face risk of drying up
The region also want all the elections that of Sub County, counties and national be held on the same day for transparency and avoidance of intimidation. "The November elections were cancelled due to concerned irregularities including lack of stakeholders' engagement in the electoral process and this should not be repeated and that is why we are calling for the resignation of the current office," said former FKF Vice President Twaha Mbarak. Mbarak said the electoral body should also be independent by operating from the federation's offices to avoid conflict of interests. FKF Mombasa sub-branch Chairman Ally Goshi said there should be no fees charged to those vying for the top seats. He said an independent Appeals Committee should make all the appeals free, unlike the current guidelines that stipulate that a non-refundable appeal fee of Sh 100,000 shall be paid by any aggrieved candidates in all positions.
SEE ALSO: OPINION: Why Nick Mwendwa is wrong on registration of County sports associations
Former FIFA referee Suleiman Ghalib said NEC members should be elected regionally and not countrywide. "We are subjecting candidates vying for Nec positions to unnecessary campaigns across the country and should only be concerned on the regions," said the former Coast Stars Chairman. Ghalib said Spain's La Liga President Javier Tebas resigned three months to the county's football federation election to ensure there was a smooth electoral process. "Tebas was re-elected last month after stakeholders realized that he had done a lot to promote football in Spain. This should happen to Mwendwa and his team. They should resign and pave way for free and fair election. If the current office has performed its mandates diligently, they will be re-elected," said Ghalib. "In the best interest of the country and football fraternity, Mwendwa and his entire team should resign," added former FKF Mombasa sub-branch Treasurer Ismail Mohammed.
SEE ALSO: Why politicians want nicknames on ballots
Glance box Resolutions adopted 1) All elections to be conducted in one day 2) Electoral Board and IEBC to conduct and supervise the election 3) The electoral board to have an office away from that of FKF 4) Three club members and not one to vote at the county elections 5) No appeal fees 6) Elections to be held at central venues accessible to all voters