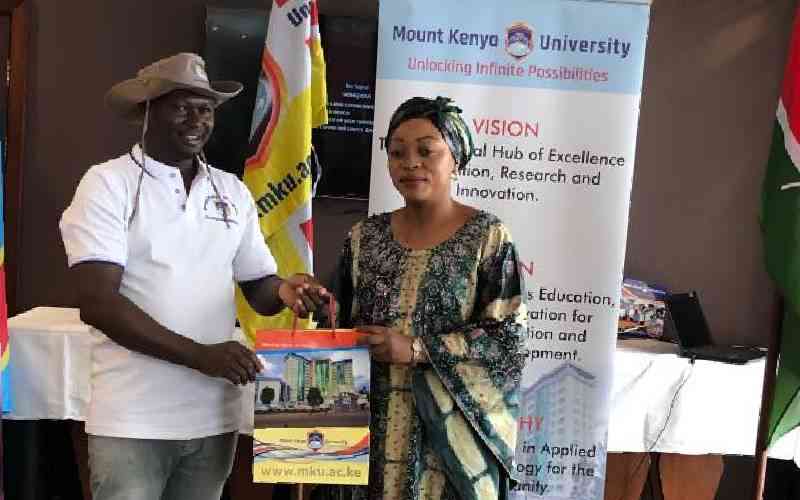 Local universities have seen a sharp increase in Congolese students' enrollment in various courses.
Speaking during an inaugural education fair, DRC provincial minister for Education, Prisca Kamala, noted that Kenyan universities have attracted more learners from their country, seeking quality education.
"Kenya has a rich educational system and for the longest time, Congolese have enrolled their children into Kenya's educational institutions with over 400 student enrolment per year," said Kamala.
She added that because of such opportunities, institutions like Mt Kenya University (MKU) have opened a branch in Rwanda with more than 100 Congolese students enrolling in the University.
African Nazarene University, she noted, has grown its student population since Kenya and DRC opened trading opportunities and partnerships.
Kamal said she was optimistic that after the inaugural fair, many linkages, and partnerships will take place.
She also urged more Kenyan learners to enrol in DRC learning institutions.
"I am urging the Kenyan educational institutions represented here and beyond to take time to visit our institutions where they can discuss ways of partnering, especially through languages, such as Kiswahili, French, and English," she said.
Dubbed "Transformational Opportunities in Education" the fair attracted close to 200 participants, among them, MKU, African Nazarene University and Strathmore College.
"The educational fair aims at drawing Kenyans to visit Goma, and experience the opportunities available for investment in the sectors of education, tourism, health, and manufacturing, while at the same time, engaging the DRC business community to invest and do business with Kenya," said Moni Manyange, acting Consul-General, DRC, Goma.
Boniface Murigi, Administrative Director, Communications and Corporate Affairs at MKU said such partnerships will boost the economy.
"We are partnering in this fair because we believe DRC has a huge potential of students who would like to further their studies in a well-established institution like MKU," he said.
Murigi said MKU had a constituent University in Kigali that has attracted more than 60 students from Goma.
"We are here to make a decision on establishing another constituent college in Goma," he said, adding that the Congolese enrolment at MKU, Thika, stood at more than 60 students.
African Nazarene University expressed the same sentiments.
"As our name suggests, our focus is to expand to as many African countries as possible, and since we have a number of Congolese students enrolled in our university, we grasped this opportunity to top up the numbers," said Dr Victor Boiyo, of Vice Chancellor's office.
Consul Manyange noted that plans are underway to hold more future fairs.
"We are looking for a bigger second event through applying the lessons learnt in our inaugural fair," he said.