Dr Ponge: The dirty games we played for money, booze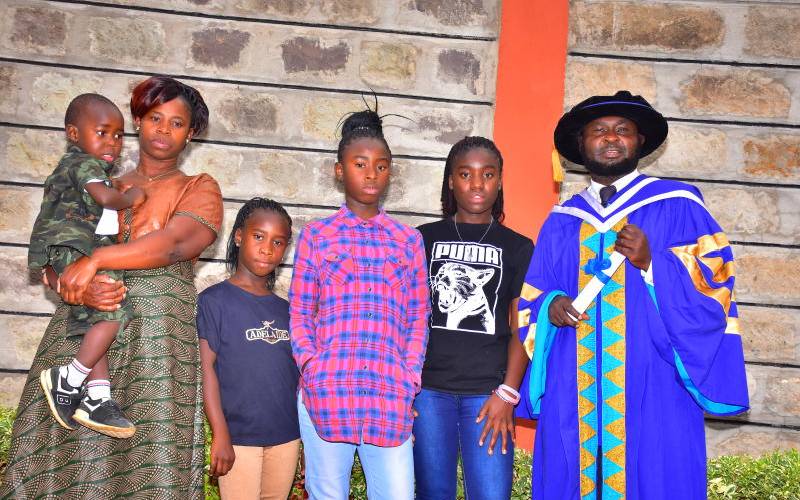 My joy, however, did not last long. I received a letter from Vice-Chancellor, Prof Francis Gichaga, purportedly on behalf of the Senate, claiming that following my appearance before a Senate disciplinary committee, the Senate had decided to expel me. The letter did not say when I appeared before the Senate, what the charges were, and whether or not I was given a hearing. But I had never appeared before such a disciplinary committee.
After receiving this letter, I could not go home. I decided that I would be 'pirating' (that is, staying illegally on campus) in other students' rooms when they were in session. I would perfect my 'cargo cult mentality' in order to survive. This saw me drown in alcohol and I would occasionally stage what became known as "one-man demonstrations" against President Moi. I engaged in other acts that I have apologised for, and for which I'm truly sorry.
My attempts to appeal the expulsion fell on deaf ears. It was not until 2003, when the Narc government of President Mwai Kibaki came into power, that a new Vice-Chancellor, Prof Crispus Kiamba, and a rejuvenated Sonu leadership of Fwamba CN Fwamba, David Okindo, Makhoka Wanjala, Oulu GPO (RIP), Tedd Munovi and Ngaruiya KJ fought hard for the reinstatement of students who were 'politically expelled'.
The university constituted a Senate disciplinary hearing for me. Actually, they wanted to endorse the expulsion. But Prof Solomon Monyenye (RIP), my philosophy teacher, prevailed upon Prof Florida Amakobe Karani, the DVC Academic Affairs (who was chairing the meeting), to have me re-admitted.
To all those who accommodated me at my time of greatest need, and whom I greatly inconvenienced with university security; Nelson Juma Otwoma, James Ochieng' Maende (RIP), George Oguta Osuri, Jared Odindo, Fred Odhiambo, Ken Ouma Owiny (RIP), Onyango Opugge (RIP), Solomon Odera Rangala (RIP) and any others, whose names I may have missed, I apologise.
Reaping from politicians
It was time for the 1992 General Election and as was the nature of university students, that was the time for political harlotry and trying to reap from politicians. So, Raila Odinga organised to have students register in the Lang'ata constituency to vote for him. He brought 'manyanga' matatus to ferry us from campus to a registration place between Nyayo Market and Ngumo shopping centre.
After registering, our coordinator, called Raila to address us. He briefly talked about the urgency of the time and the need to remove Moi from I was in Mathari with the real mad men and women. The hard-core type. Dr Owiti tried his best, including introducing me to Alcoholics Anonymous. power.
After the speech, one student boldly asked for 'fare' back to campus. Raila really lectured him, "You disappoint me, you university students. This is the culture we want to get rid of in Kenya, and you are the first ones to ask me for money."
In brief, not a single coin came out of Raila's pocket.
After the disappointing Lang'ata registration exercise, one of us hatched a plot to approach Perez Olindo, who was vying for the Lang'ata seat against Raila, but on a Kanu ticket.
We moved to Olindo's Embassy House office, but not all of us could fit inside. The leader and a few students entered while the rest remained outside. But, when they emerged, the leader, said he had been given promises but no cash. We, however, heard different, but everyone went their separate ways.
Fight broke up
I went to the pub with a few others and drank until 10 pm. That is when the guy who had taken us to Olindo's office turned up with some campus guys. They were also drunk. I was enraged and demanded that he gives us our share or there would be trouble. A fight broke out and it was so fierce that the whole bar came to a standstill.
Then out of the blue, Kefa Awuor hit me so hard with a beer bottle that I lost consciousness.
I woke up in the University sick bay with stitches on my head. I still have a scar on my forehead. And because of that attack, MHW Ocholla ordered Kefa never to step foot on campus if he valued his life.
Interestingly, Kefa was searched and found to be in possession of a student ID. He even lived in a hostel, but no one really knew which course he was doing. He would attend all the classes, where lecturers rarely knew students by name, but his real job was to track the students perceived as being 'radical'.
We never saw him on campus again (even though he had married one of the cooks). The next time some students appeared before the Special Branch for grilling at Nyayo House, they were shocked to find Kefa was one of the interviewers.
He was one of us, a guy we would drink with and share secrets, but we had no idea he was a government spy. That is how bad the campus was.
We had missed Raila's and Olindo's cash, but we had to get a politician's money to spend.
And that is where 'The Boss' came in. His sign was a baby, and he had flooded the city with big goggles with no head. And a slogan, 'Think, Work and Grow Rich'. In reality, we were taught to think on campus, but we did not want to work, yet, we wanted to get rich.
So we started asking what those big goggles were all about. By coincidence, Syprose Oloo Rabach organised a birthday party at Nairobi Railways Club. Who did Rabach invite as the chief guest? The Boss, himself. Oh my God! Si tulikunywa! Ikapata wale wamezoea toivoh na chang'aa kama mimi now getting free beer.
The party started at 8pm and ran till 11pm. The birthday gift was Sh1,000 for everyone who attended. We carried all the bottles and crates of beer back to campus. On the way, we uprooted road signs. the Railways sign, the Uhuru Park sign, the Serena Hotel sign. Surely, what did we benefit by carrying these signs to our rooms?
And that is how 'The Boss' John Harun Mwau got a foothold on campus. Once we had been recruited as his supporters and the money was flowing freely, we assured him of our votes. But Mwau was vying in Westlands, while our votes were for Lang'ata. So we had two different campaign bases, and I was based at the Italian Furniture compound in Kileleshwa. We would campaign the whole day, come back to eat supper and get paid for the day's work. And then, we would head out to town to drink.
People chewed free meat until I heard some of Matiba's supporters say, "Otia magego ..ka ka ka." I have never asked for a translation to date. So one time we went to campaign for The Boss, in a long convoy of trailers, in a slum in the outskirts of Westlands. Wueh! We were almost lynched. This was a fanatical Matiba support base, yet, here we were trying to sell Mwau.
If it were not for the swift action of one Ndirangu Wang'ombe, I would not be writing this today. I would have been buried a long time ago. It was Ndirangu who told them to take Mwau's money and chew but reserve their votes for Matiba. That is how we survived.
Come election day and we convened at the Italian Furniture place. We were paid upfront and briefed on the different polling stations, where we were to act as polling agents. One person told The Boss, "But we have not taken breakfast. How can we go to the polling stations?" And The Boss replied, "Wewe ni heckler. Unajuwa maana ya heckler? Ni mtu wa kuharahara maneno kama wewe."
We burst out laughing and headed to the different matatus that transported us to the polling stations. When the results were announced, we all felt guilty. After chewing his money for nearly 30 days, he did not get a single vote from my polling station. On behalf of all the comrades, who chewed John Harun Mwau's money but did not campaign or vote for him, please accept our apologies. It was not only your money that they ate. Walikula mingi.
The Sick Bay days
After I was knocked unconscious at Modern Green, those who saw me, assumed I would not make it to the next day. When I was being treated in the sickbay, a consultant psychiatrist from the University Health Services, who was doing his rounds, asked what I was being treated for. He told the university chief medical officer, Dr Githahu, that I did not belong in the sickbay.
So, Dr Fred Owiti took over my case and referred me to the Mathari Mental Hospital's Maximum Security Unit for treatment. That is how he started treating me for dipsomania, which is the uncontrollable craving for alcohol. I was in Mathari with the real mad men and women. The hard-core type. Dr Owiti tried his best, including introducing me to Alcoholics Anonymous. After my reversion to Islam and quitting alcohol, it was Dr Owiti, who assessed me to confirm that I was no longer 'mad' and that I could complete my studies. Good people, join me in thanking Dr Owiti of Chiromo Lane Medical Clinic for saving a life. I share with him the joy of my PhD.
You recall my trips to the infamous Mathare slum. This time, we were at a place called Number 10 near the Moi Air Base. Students with connections could easily get duty free beers, cigarettes and even canned beef from the base. But for me and my friends, we could only afford illicit liquor that was brewed and consumed at the source. The liquor was served in a 500 grams Blue Band tin called 'Orchestra' - or 'Okech'. We would say, "Nyar Sakwa leta Okech!"
I had drunk all my money but I still wanted booze. So what did I do? I promised the brewer that I was going to bring her a 32-inch television that she could use to show football matches for a fee. We agreed on a price of Sh2,000, and I drank a down payment of Sh500. Rest in peace, Nyar Sakwa, Nyar-gi Amollo Tinga. I think I still owe you.
I did not have a television so where was I to get one? My cousin had just been promoted to a permanent secretary–the highest-ranking position for a civil servant. He had upgraded all his furniture and electronic equipment, and his 32-inch TV was in a store. I thought he did not need it and arranged to go pick it up in Kileleshwa.
I hatched a plan with Solo GunMan. He would wear a lab coat that had been channelled from the university bookshop, thus passing for an electrician. We arrived at my cousin's home and I told the houseboy that I had been sent with the fundi to pick up the TV in the store.
But I had underestimated the intelligence of the houseboy, who went to the reading table, wrote down the office telephone number and called my cousin.
The boy asked for confirmation and my cousin demanded to speak to me. "Cannon! Bende wiyi ber-ga? Have I sent you with anyone to go and pick my TV?" I do not know how I hang up the phone and how we snaked our way from Kileleshwa to the matatu stage. By him in whose hands my life is, I apologise to you, my dear cousin.
The bookshop allowance
Back in university, the government thought it was doing us a favour by depositing Sh3,500 for every student in the university bookshop.
We had to use this money to buy books or else it would revert to Treasury. This decision was pushed down our throats without seeking our views. This is why I tell my students that stakeholder participation is critical in decisions that affect their lives.
The university realised that we were not buying books because we had the best library in sub-Saharan Africa (at least before Kenyatta University came up with their post-modern library).
What did the university do? They turned the bookshop into a supermarket. It is true that luck comes at the time of greatest need. We survived from the bookshop for a long. We did not even need the boom. We would go to the bookshop in light clothing, but leave when wearing several T-shirts. Even the tracksuits came in handy. There was a ready market for these. Which Mosse Sakar calls 'fast-moving goods'.
The medical students also needed lab coats and we could 'channel' them easily from the bookshop and sell to them at 'comrade's price'.
The photocopy and printing papers helped us do good business. The price for one ream was Sh120, which would be deducted from my account. So what was one to do? You added one zero at the end of '1' ream, so it read '10' and another zero to make the price read Sh1,200. This meant the university lost nine reams of photocopying papers, which had a ready market in downtown Nairobi, where a ream sold for Sh80. After all, we did not 'waro-gi'. It was pure profit. I think it took the university a whole year before they did stock-taking and realised the loss they had made.
Security was improved and those who were caught in the act served as a lesson to those who harboured such business ideas.
The bookshop also sold tracksuits that were clearly labelled 'University of Nairobi'. People wanted to identify with UoN then and even today, so a group of students took their economics and entrepreneurship classes to the next level. They were innovative enough to come up with a company--UoN Urgent Cargo Handling Services LLC--whose slogan was 'Malo gi Piny'. I'm not sure whether they had gone for benchmarking at the JKIA cargo section, but they were swift. They believed anything Top and Down was theirs so the tracksuits came in handy.
High demand
Given that demand was extremely high, especially in Dandora, Eastleigh and Kibera, which they called the 'motherland,' the suppliers had to up their game.
They became ruthless, getting hold of any 'cow' they believed was theirs. They did not care whether the 'cows' were grazing or drinking water or were in the kraal. It did not matter whether the 'cows' had been rained on or not. It reached a point where when you were grazing your 'cows' or giving them water, you had to wait for them until it was time to return to the kraal and lock the gate. Any time the entrepreneurs passed by, you had to counter-check to confirm that your 'cows' were safe.
Because they came from the same source, the 'cows' were the same save for the colours. So you could not say this was my 'cow' or not. I think this is the same technology that Mugelle Wuod Seme Lango used to steal cows.. Mugelle Wuod-gi Gavana ma Profesa manigi Degree kod Masters kod Pihechdi .. Joma nokawo Kisumo gi run kend-gi kaka Jo-Seme. He would steal your 'cow' and replace the horns so the 'cow' would look exactly like yours, but you would let it go because you don't have a 'cow' with such horns.
On behalf of the entrepreneurs, to all those who were victims of the 'Malo gi Piny' illegal entrepreneurship, please accept our sincere apologies.
The act was to satisfy an immediate need without being mindful of the welfare of others.
Disorienting my sister
So campus was closed and I was staying with my sister, Lillian Ponge, in Kapenguria town. Occasionally, my brother-in-law, Engineer JDO Hwaga, did not wish to see me bored in the house so I would accompany him when he was going to water his throat.
I couldn't ask for pocket money every day. They knew I drank, but not about the smoking. Until one day my niece, Everline Hwaga, sold me out. "Mummy, uncle ananuka sigara."
After this episode, I had to find a way to bring the children to my side. I devised a method of asking them simple questions and rewarding correct answers.
This was modelled on a popular TV programme called 'OMO-Pick-a-Box' where you could opt for cash or settle for a mystery prize. These questions helped them with revision, and my sister should have paid me for tuition. I think I need to ask for this now! But where was I getting the money to drink, smoke, and buy gifts for my nieces and nephew?
The first strategy was to make sure that I was the one sent to the posho mill to grind maize for flour. Whenever I was sent with five tins (gorogoro) of maize, I added two or three tins. I left these tins with the woman, who sold illicit brews so that I could return later in the day and drink.
I would steal my sister's household goods, which were in high demand in the chang'aa dens.
One day, my sister had just come back from work and bought a dozen Ushindi soaps to do some washing that evening.
I picked up the soaps and took them to a wholesale shop belonging to a Mr Muniu.
As I asked how much he would give me for them, he said, "I thought I sold these to your sister a few minutes back?" I had to run as fast as my thin legs could carry me to the next potential customer. I got a ready market and drank all the money. I returned home singing reggae songs only to find my sister searching for her soap. Don't ask what she did to me.
To my big sister, I'm truly sorry for the hell I put you through. Please accept my sincere apologies.