Pupils show the way as they choose leaders in free election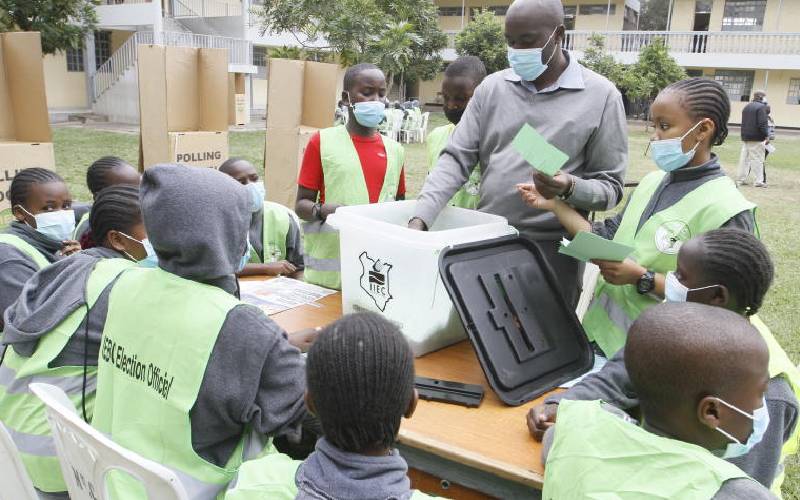 Learners at Moi Education Centre yesterday proved they can do better than adults when they chose their leaders in a free and fair exercise devoid of the violence and logistical challenges associated with national elections.
In the polls, the over 1,344 pupils elected Teresia Aling'o as the new president. The class eight central stream pupil emerged the winner with 903 votes after beating Nigel Olande (232) and Ally Mohamed (138).
Three senators, Nicole Kituyi (Class Eight), Jayden Saiyanka (Class 7) and Mark Daniel (Class 6) were also elected during the exercise, which was held in compliance with Covid-19 protocols. Out of the total votes cast, 76 were spoilt.
Voting started at 11am in an exercise presided over by the school's election board, with the pupils acting as polling clerks. Teachers supervised the exercise, including tallying of votes.
After casting their ballots, the learners' fingers were marked with paint to avoid double voting.
The school has a unique governance system where the second and third runners-up join the Cabinet, unlike in Kenya's winner-takes-it-all electoral system.
The deputy president, who must be in class seven, will take over from Teresia when she completes class eight.
One other key thing to note is that gender balance was strictly observed as every presidential candidate had a running mate of opposite gender.
The elections are held every year where classes one to six elect governors. Yesterday's was the seventh election to be held. Only those aged above nine years are eligible to vote.
Teresia, who was overwhelmed with joy, said: ''I am feeling relieved. Campaigning was tough balancing it with education considering that I am a KCPE candidate. I had faith that we shall win. Convincing the students to vote for me was also the toughest. The main point on my manifesto was to improve teacher-student communication and I will try my best to do that,'' she said.
Her running mate Adrian Gesicho said: "I feel happy and relieved. We expected to win. I will support my senior to deliver on the manifesto we had."
The two losers conceded defeat and congratulated Teresia for the victory, promising to work with her to deliver on her pledges.
Before the elections, the three presidential candidates and their running mates were taken through a briefing session, which involves counselling on accepting or rejecting results.
"This is done to help them cope with the results that will come either way. The election event is normally very exciting, emotional and we tell them they need to relax after the results. Some refuse to accept the results and become hysterical not only in school but even at home,'' said Diana Mutai, a teacher in charge of counselling.
After the results, the candidates are also debriefed during which they share their concerns and views, including on whether the polls were free and fair.
"For those who refuse (the results) completely, there is an election board, which is chaired by teacher Fredrick Dawo that looks into the issues and advises them accordingly, showing them results," said Ms Mutai.
Elections board commissioner Job Cheserem said the exercise showed how national elections can be conducted, from campaigns period to the declaration of results.
Getting elected comes with certain perks such as being issued with blazers, presents on prize giving day, annual trips and being served food on a priority basis.