State releases Sh17 billion to institutions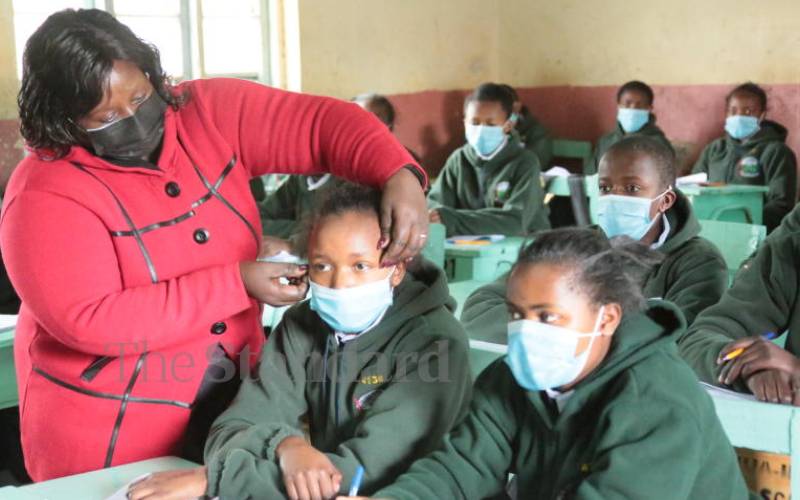 The government has released Sh17.5 billion to schools and cautioned principals against sending away children.
Education Cabinet Secretary George Magoha said Sh17.47 billion will go to secondary schools. Another Sh2.62 billion will go to primary schools.
A spot check across the country revealed that long queues witnessed on the first day of admissions rolled over to Tuesday as the process of admitting children was not completed by the close of business on Monday.
Most parents had to seek their own accommodation after failing to complete the clearance process.
In some cases, parents had a difficult time going through the first stage of clearance at the gate, as gatekeepers turned away those whose children's details had not been captured on the hard copy list.
And in other cases, parents with fake admission letters were asked to get proper documents and have the details captured on the National Education Management Information System (Nemis).
Education Chief Administrative Secretary Sarah Ruto said students must be admitted to schools where their details have been captured in Nemis.
"Only students who appear on the current Nemis list of a school will be admitted to that school. Where parents/guardians applied for change of placement and were accepted, the same has been effected in Nemis," said Dr Ruto. Prof Magoha, however, said that the ministry is impressed by the high turnout of Form One students who started reporting to their secondary schools on Monday.
He said that in line with the 100 per cent Transition Policy, parents and all stakeholders must ensure that all Form One students report to their secondary schools given that the government has already released funding to support learning activities for Term One.
"At the end of the Form One reporting exercise, all learners will be back to class for the first time since March 2020 when all schools were closed as part of the government's measures to control the spread of Covid-19," said Magoha.
Some 1,171,265 Form One students were selected to join various secondary schools between August 2 and 7.
The Cabinet secretary however cautioned school heads against any further learning interruptions as capitation money has been released.
"With the release of the capitation funds, principals are advised to keep all their learners at their respective schools to ensure no part of class time is lost during the shortened academic calendar," said Magoha.
He also said that no child should be sent home and urged principals and parents to negotiate on payment terms.
"Principals should dialogue with parents of learners with fees balances to find practical ways of clearing any arrears," said Magoha. The Cabinet secretary also warned heads against hiking fees or loading over unnecessary levies on parents.
"Principals must strictly adhere to new Ministry of Education guidelines on school fees that were issued based on the 30-week school calendar. Any additional fees outside of the official guidelines will not be tolerated," said Magoha.
Magoha said fees paid by parents was reviewed downwards following the Covid-19 pandemic that affected the school calendar.
He said the academic year has been reduced by nine weeks.
"Based on this and in consultation with the president we agreed to reduce the fees chargeable in schools," said Magoha.
The CS said national schools will charge fees less Sh8,500 and the rest of the schools will charge fees less Sh5,500. The details are further contained in a circular released by Basic Education Principal Secretary Jwan Julius to all school heads ahead of schools opening.
"Following the shortened academic year, the Ministry of Education has revised fees payable by parents," read a circular.