Results of 287 examination cheats will not be released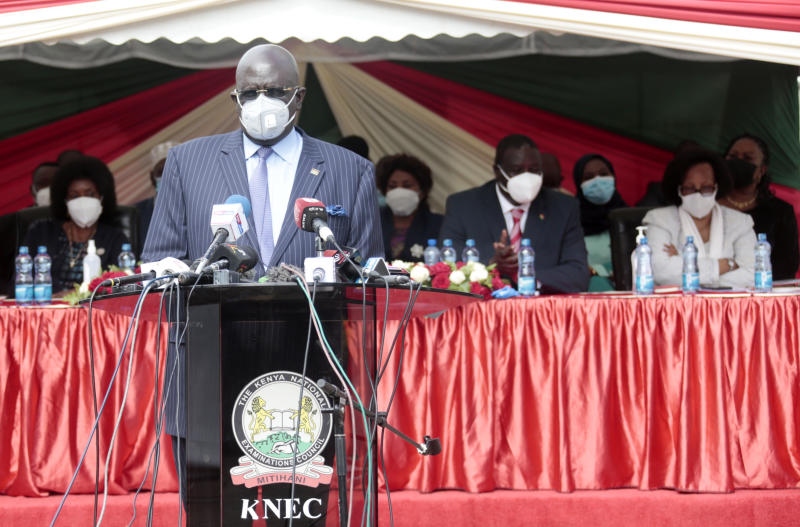 At least 287 KCSE students who were caught cheating will not receive their results, Education CS George Magoha has said.
The CS announced that the individual results were cancelled after it was established beyond doubt that the students had indeed cheated during the exams.
Magoha said President Uhuru Kenyatta directed them not to do blanket cancellation of results for examination centres implicated in exam cheating.
"We have not cancelled results from any school this year but only for individual candidates after establishing beyond doubt that they were involved in examination irregularities," said Magoha.
Out of the 287 students, 211 were found with unauthorised materials in examination rooms, 45 sneaked mobile phones, 29 others colluded to commit examination irregularities while two were cases of impersonation.
"These candidates are very lucky otherwise we could have cancelled results for about 20 other schools," said Magoha.
However, efforts to curb exam cheating will be taken a notch higher after the Teachers Service Commission (TSC) announced plans to launch Biometric Enrollment and Validation of teachers in all public schools for easy forensic analysis.
TSC Chief Executive Officer Nancy Macharia yesterday announced that the exercise will entail enlisting teachers' fingerprints as part of streamlining the profession and also to help in forensic investigations in the cases where mobile phones and other gadgets are used to leak examination papers.
The move was resolved following cases of teachers, examination centre managers, supervisors or invigilators opening the examination papers as soon as they are released from the containers were reported in the KCSE 2020.
Should the forensic analysis reveal more cases of cheating, Magoha said the ministry would recall their results.
"We are giving them the benefit of the doubt as we continue with investigations. If we find more compelling cases of cheating, we shall cancel the results," he added.
The TSC boss explained that teachers would screenshot examination questions using their cell phones as soon as they are released from the containers before circulating them either to candidates directly or to impersonators.
She pointed out the case of ABC Kiseveni Secondary School principal Betta Mutuku Kavoi in Machakos who was arrested and arraigned in Machakos after she allegedly uploaded images of the national examination Mathematics Paper Two on her WhatsApp Status.
The principal denied the charges arguing that she received the photo from an unknown number and that she did not know the photograph ended up on her WhatsApp.
In another case, a senior teacher's cell phone containing screenshots of questions of a paper was recovered as the cell phone was being transported to a candidate who was sitting the examination at a hospital.
Macharia warned that the commission will take action against the teachers involved in cheating.