Prof Magoha: You don't need to go to National schools to pass KCSE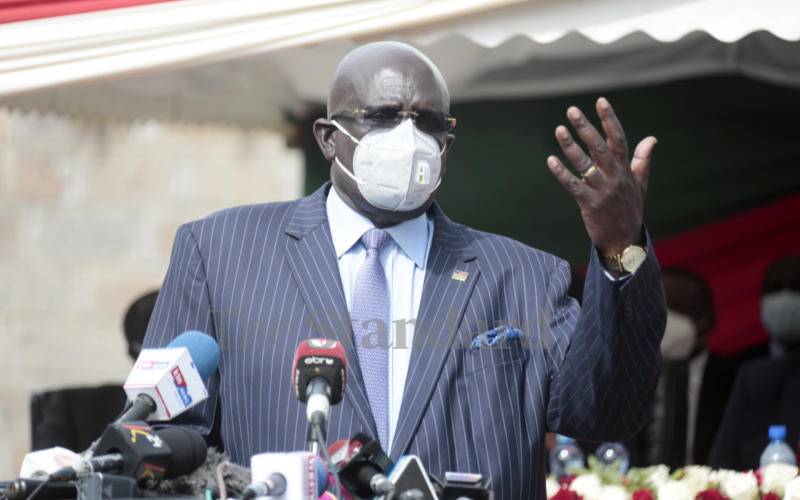 Education Cabinet Secretary George Magoha (pictured) has challenged parents to stop propagating the myth that only certain schools will propel their children to succeed in the Kenya Certificate of Secondary Education (KCSE).
Yesterday, while releasing the 2020 KCSE results, Prof Magoha demonstrated how county, sub-county and extra county schools had the capacity to produce good grades to enable students to pursue careers in different fields. "There is this myth, which is totally misplaced. Right now I have 5,000 requests and they all want to go to three schools, yet there are students who have scored below 200, and they are going to university from sub-county school," said the Education CS.
Cheriot Bett Dennis, who studied in Kimargis Secondary School – a sub-county school – scored a B- after attaining 190 marks in KCPE. Maluti Tom Miti from St Teresa's Secondary School Bikeke scored a B- after scoring 199 marks in KCPE.
Others from perceived "small schools" who shone are Kipis Soimit Charity, with 151 marks in KCPE and C+ in KCSE, and Sadera Sempeyo of Oldekesi, who registered a B- after scoring 168 marks in KCPE.
"The lesson from this radical positive KCPE improvement by candidates with low achievement at KCPE is that government's 100 per cent transition that allows all candidates to progress to secondary school is a game-changer," stated the CS.
The most improved schools, which Magoha said "will add value to students" who join with low marks but later transform into excellent grades, were Kaaga Girls, which improved a KCPE index of 22.38 to 73.98 in the 2020 KCSE.
Second was St Joseph's Girls, Kitale, from 21.22 to 71.57, followed by Kisasi Secondary School (20.48 to 68.26). Others were St Josepth's Rapogi, from 31.12 to 77.78 and Light Academy from 30.15 to 76.74.
According to Magoha, schools that opened for the 2020 third term yesterday are expected to close on July 10 and proceed on a week-long holiday to begin a new year.
"That new year, ladies and gentlemen, entails the rollout of Competency-Based Curriculum (CBC) Grade Five, and for avoidance of doubt, we shall all rollout Grade Five together whether in public or private schools," said Magoha
He said the upset of the academic calendar would be occasioned by five examinations. However, the 2021 KCPE and KCSE exams will be held in March 2022.