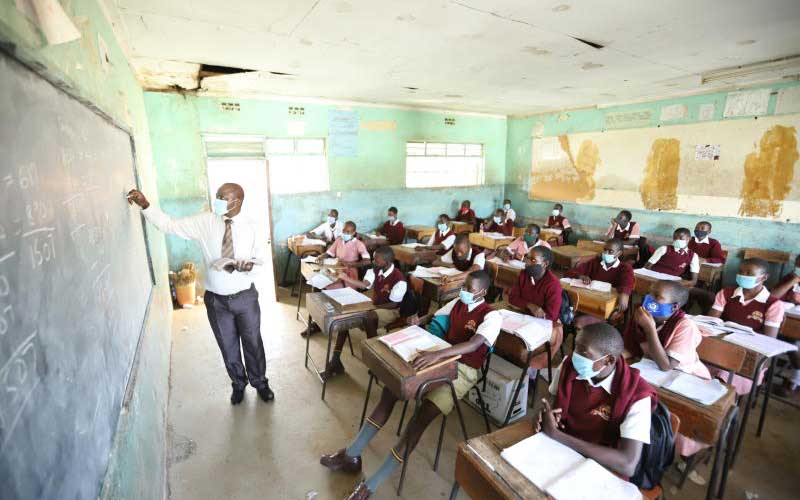 The Teachers Service Commission (TSC) has rolled out a recruitment and training drive ahead of the planned reopening of schools next month.
TSC Chief Executive Officer Nancy Macharia said the commission plans to hire about 6,600 intern teachers this month as part of the Covid-19 mitigation measures.
The commission also announced the start of December training session of some 118,000 teachers on the Competency-Based Curriculum (CBC).
The training sessions, which will be done both face-to-face and virtually, will start December 7 and end December 22.
Read More
On recruitment of interns, Macharia said some 4,676 to be selected to teach in secondary schools will earn a stipend of Sh20,000 per month.
She said 1,998 interns selected to teach in public primary schools will draw a monthly stipend of Sh15,000.
"This is part of the national government post Covid-19 economic stimulus programme announced by President Uhuru Kenyatta," said Macharia.
Interested candidates have two weeks to submit applications through an online portal.
The interns to be hired, however, fall below the TSC target as Macharia said the commission had projected to hire 12,000 more.
In her recent report tabled in Parliament, Macharia said the commission urgently requires Sh17 billion to hire some 26,000 new teachers to manage increased enrollment under the 100 per cent transition.
She also said TSC requires another Sh8.1 billion annually to hire 12,500 teachers to plug the normal shortage.
Cumulatively, the TSC immediately requires Sh25 billion to effectively prepare for schools reopening.
Kenya Union of Post Primary Education Teachers (Kuppet) has pitched a case for immediate hiring of 50,000 teachers to plug the huge deficit occasioned by Covid-19 pandemic.
Kuppet Secretary General Akello Misori said the additional teachers will help ease teachers' burden as more classes will be required after streams are split to enhance social distance protocols.
On CBC teacher training, Macharia said those targeted for this month's training are head teachers from regular schools and Special Needs Education (SNE) teachers – two teachers from Grade 4 (both regular and SNE), and two teachers from Grade 1-2 for CBC mathematics.
The training schedule contained in the November 30 circular said virtual training will be done between December 9 and 16.
The training will cover Curriculum Support Officers (CSOs) and champions on CBC mathematics content for Grade 1-3.
Online sessions
Training of Special Needs Education CSOs and CBC champions will be done online.
Face-to-face training targeting teachers will start December 17 to 22 and will be done at zonal level.
Macharia had indicated that the December training would be done at a cost of Sh1 billion.
"The commission intends to prepare teachers for eventual re-opening of schools through training, capacity building, sensitisation and induction programmes," said Macharia.
She said the training, in collaboration with the relevant stakeholders, is aimed at ensuring successful implementation of the new curriculum.