Private farm offers CBC learners practical skills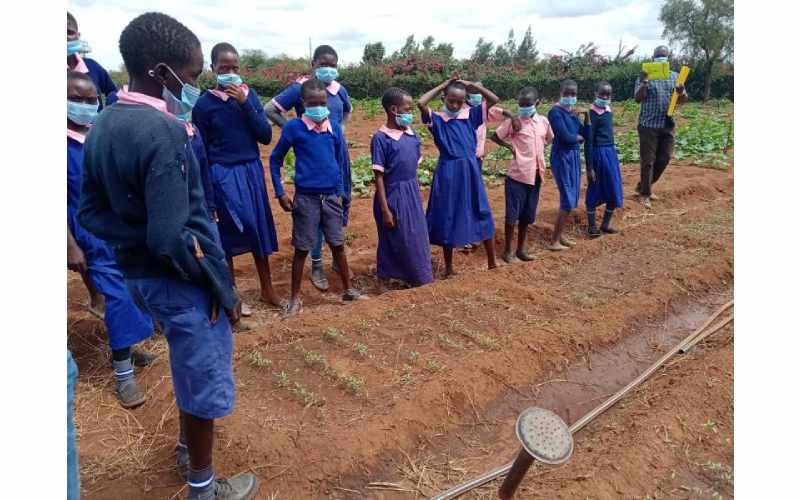 A school in Kajiado County has partnered with a nearby farm where Grade Four learners will acquire farming skills.
Eluanata Primary School approached Olaitotioni Farm last year and requested for a section where learners could put agriculture theory into practice.
Three acres
While the request was readily granted by the Rev Joseph Oloimooja of the Anglican Church, it was not until this year that learners started their studies on the three-acre parcel of land he had given them. Eighteen learners are engaged in the project.
As schools gradually shift to Competence-Based Curriculum (CBC) that was rolled out in 2017, the need for more practical learning also increases.
About four years ago, Oloimooja returned from Diocese of Los Angeles, US, and turned the desolate wilderness into a food basket where he grows onions and tomatoes.
The neighbouring primary school, which he helped start, sought to learn from his success in changing the fortunes of the 'unproductive' land in Eluanata.
The expansive plain, stretching to the Amboseli National Park, is rather dry for crop farming. Livestock farming has remained the age-old source of livelihood.
The Grade Four learners prepared the land and already have tomato seedlings in a bed. They will transplant them on the portion allocated to their practical lessons.
Simon Leukai, a teacher at the school, says the initiative is a CBC project meant to train learners.
"The project is in the syllabus but it is also an important lesson to children from this area that there is more to agriculture than livestock keeping," Leukai says.
One of the key lessons the learners are getting from the farm include water conservation. The farm has two dams which are meant to harvest water during rainy seasons for irrigation.
The farm has also sunk a borehole from which it pumps 14 cubic metres of water every hour to a raised water tank. The pump is solar-powered.
Solar energy
"There is plenty of sunshine here and we teach the learners that the hot sun should not be a bother but a resource and needs to be tapped like we are doing to get water for agricultural use," Oloimooja says.
The other aspect the learners get to see is how to find a market for the produce and make money.
"When their produce is ready, apart from just scoring marks during evaluation, they will also have an opportunity to sell and understand how the market operates, a reward for their sweat," Leukai says.