State to rebuild seven flood-ravaged schools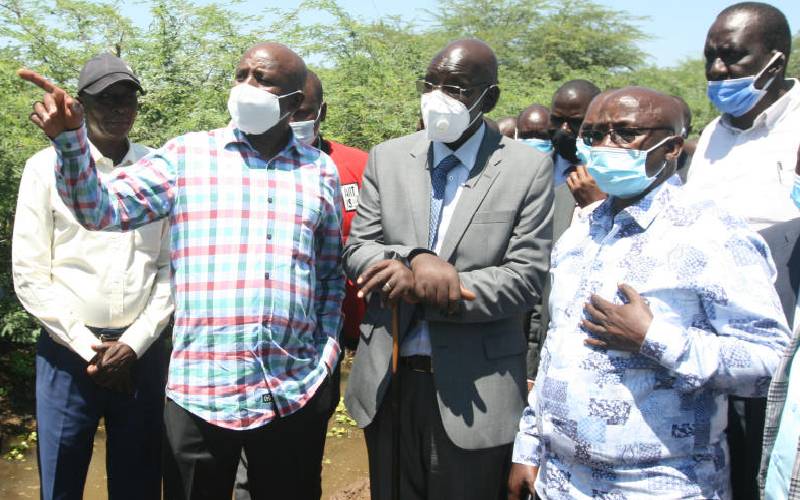 The Government has announced that it will rebuild seven schools that were completely sub-merged by the swelling waters of lakes in Baringo.
Education Principal Secretary Belio Kipsang who toured the completely damaged learning institutions to assess the situation in the county said work on the schools will begin immediately.
"We are ready to bring schools back to state they were in if not better to ensure our children engage in learning. We shall rebuild schools and have children in other schools," Kipsang said.
The schools that were sub-merged and damaged include Ngambo Secondary, Kiserian Primary, Nosukro Primary, Lake Baringo Secondary and Kiserian Secondary.
Those that were slightly damaged were Sokotei primary and secondary schools, Lake Bogoria Primary School among others.
The PS was accompanied by Baringo County Commissioner Henry Wafula, Baringo Deputy Governor Jacob Chepkwony, Baringo North MP William Cheptumo and Baringo South MP Charles Kamuren.
Earlier Kipsang met with governor Stanley Kiptis before visiting the schools.
Kipsang said process of mapping out nearby schools to host learners temporarily in case schools reopen early is ongoing.
The PS said the ministry is acting as per directive by President Uhuru Kenyatta who ordered that assessment be done on effects of swelling lakes.
He said the loss caused in education sector in Baringo is huge, and that the Ministry of Education will engage Environment Ministry to assess the rate at which water levels in lakes Baringo and Bogoria are rising, and how long they will take to subside.
Cheptumo said there is need to study lakes in the region.
"There is need to undertake a study on rising levels of water in lakes in the Rift Valley," he said.