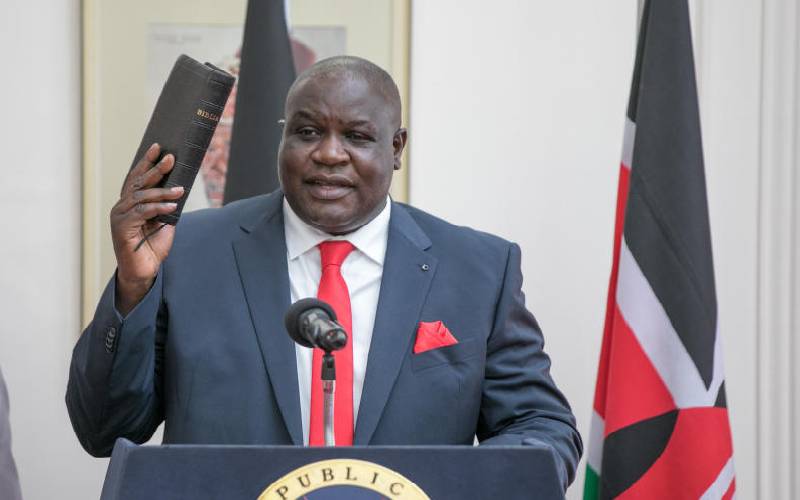 Primary school dropouts and high school students who fail to secure slots in universities and colleges can now use alternative pathways to acquire diplomas and degrees.
And those who use fake certificates and qualifications to acquire training within and outside the country will be nabbed and their papers invalidated.
The Kenya National Qualifications Framework Authority (KNQA) has been tasked with implementing the plan that will see dropouts eventually earn salaries equal to that of a master's degree holder.
This means that skilled carpenters, masons, car mechanics and plumbers who skipped school will be assessed and awarded certificates that can be used to acquire higher education, if they so wish.
Technical and Vocational Education Training Principal Secretary Julius Jwan (pictured) said such recognition will rope in jua kali sector players who are critical to economic growth.
"We are making a deliberate effort to train together with the industry to eliminate the mismatch that has been with us for a long time," said Jwan, adding that a new KNQA board is under firm instruction to enforce standards.
Education Cabinet Secretary George Magoha appointed former Education assistant minister Kilemi Mwiria to chair the board.
The council, to be inaugurated today, consists of Joseph Nyamora, Gwiyo Kamora, Isaac Gathirwa, Rosemary Njogu, Isaiah Ochelle, Hirji Shah, Damaris Muhika, Stephen Ogenga and Kipkirui Langat.
The KNQA has operated without a council for the last two years, slowing its operations.
"We now want the board to get down to work because they are critical in setting standards and ensure right qualifications are rewarded," said Jwan.
Mwiria said since its inception, the KNQA has faced unhealthy competition from established State agencies.
Final authority
"For avoidance of doubt, the Authority has overall and final authority on all qualifications awarded in Kenya and brought into the country from other jurisdictions," Mwiria said.
On the matter of fake qualifications, Mwiria said the agency was scaling up its activities to ensure all institutions accredited to issue certificates abide by laid-down regulations.
Jwan said skilled citizens will be allowed to grow their expertise and have their qualifications certified by the KNQA.
"Some dropped out of primary and secondary schools, got apprenticeships and have become experts in their fields. They will now get certificates equated to allow them move to the next level of training that leads to higher qualifications.
"For a long time these prior learning skills have been ignored and now these Kenyans have a chance to progress and get remunerated because they contribute to about 80 per cent of the economy," said Jwan.
KNQA Director General Juma Mukhwana said the authority has developed and published 10 levels of qualifications and standards that will make it easier for students to progress smoothly to higher levels of education.
"This means that from a lower qualification, the skills can be assessed, equated and awarded certificates that will allow students progress to the highest qualifications and get remunerated accordingly," said Mukhwana.