Virus eats away 2020 and with it students' dreams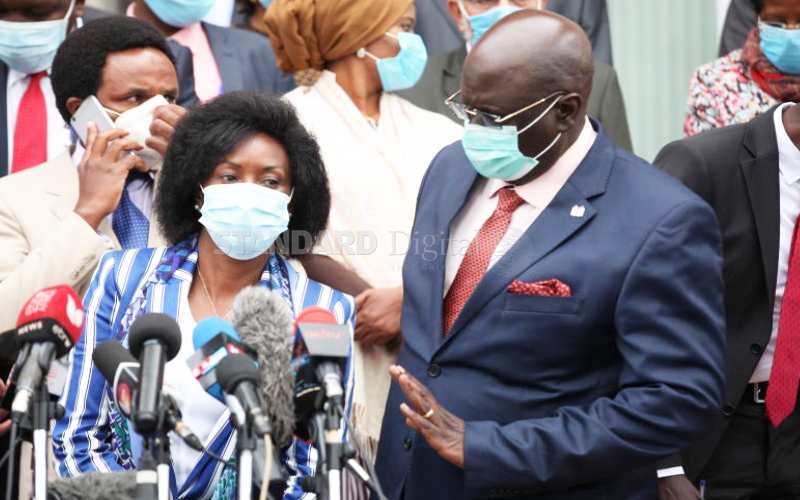 The safety of learners, teachers and the rising number of Covid-19 cases has forced the Government to suspend this year's academic calendar.
Consequently, all the 15 million pre-primary, primary and secondary school learners will repeat their respective classes starting from January next year. This also affects those in private schools, including those who pursue foreign curricula.
"There will be no Kenya Certificate of Primary Education (KCPE) and Kenya Certificate of Secondary Education (KCSE) examinations this year. The 2020 Standard Eight and Form Four cohorts will sit their examinations in 2021," said Education Cabinet Secretary George Magoha.
Speaking yesterday at the Kenya Institute of Curriculum Development (KICD), the CS said this year's school calendar year will be considered lost due to Covid-19 restrictions.
"These decisions will apply to all children, including those in schools offering international curriculum," Magoha said.
Based on the rising number of Covid-19 cases, the education ministry shelved an initial proposal to reopen basic education learning institutions in September for Standard Eight and Form Four candidate.
"This would have meant that there would be two Form One class cohorts in the 2021 academic calendar. The country would experience equity challenges when only two basic education classes reopen and transition, while all other learners lose one year," Magoha said.
Other reasons that informed the decision not to re-open candidate classes this year are that all learners in Grade 1 to 4, Standard 5 to 7 and Form 1 to 3 this year, will remain in their current classes next year.
This would have meant that there will be no KCPE and KCSE examinations in 2021 because the current Standard 7 and Form 3 students will, practically, be unable to cover the curriculum load and sit for the examinations.
Teacher shortage
"This was also done because the number of teachers required will increase as secondary schools will have a challenge of teachers. In Form One, the compulsory subjects are 11, which will necessitate employment of more teachers to handle the Form One double intake cohorts," Magoha said.
The total number of confirmed Covid-19 cases in Kenya is on a steady rise, hitting 8,067 on Monday. The highest daily number of cases was reported on Saturday at 389.
Magoha said that were schools to reopen in September, inter-county movement of students in boarding schools would pose a challenge, especially for those travelling from Nairobi, Mombasa and other counties with high incidence of infection.
"Many parents have expressed strong reservations to sending their children to school. Faced with this uncertain environment, the stakeholders have resolved to reopen all basic education learning institutions in January 2021. This is based on the assumption that the infection curve will have flattened by December," Magoha said.
The announcement, though expected, has thrown the country back to the drawing board as the Government, parents and teachers ponder its effects.
"This is the first time in independent Kenya that learning has been suspended for the whole year and examinations called off. It will be recorded in history," said Macharia Munene of the United States International University-Kenya.
Teachers Service Commission Chief Executive Officer (CEO) Nancy Macharia said this presents the commission with a delicate situation.
"We have many teachers who are 58 years and above. We have to decide whether they will be allowed back to school or not," Macharia said.
TSC was this financial year given Sh256 billion for its operations, out of which a huge percentage goes to paying salaries to the teachers. The teachers will have to continue being paid for nine months for work not done.
According to statistics from TSC and teacher unions, the country has a shortfall of 100,000 teachers for primary and secondary schools.
"It takes 10 teachers to handle each Form One class to be able to cover all the subjects. It is more when schools offer technical subjects," said a teacher.
Students in high schools have at least nine lessons in a day while those in primary schools have 10. High school teachers have an average of 24 lessons in a week while their counterparts in primary teach an average of 30 per week.
Education experts welcomed the closure, saying it safeguards the health of the children and teachers and also allows the Government time to construct more classes, dormitories and buy other learning materials.
Elijah Omwenga, the deputy vice chancellor in charge of academics and student affairs at the University of Kabianga, backed the suspension.
Minimum conditions
"There is no time lost because we are not racing against time. We use education to fulfil our human needs," Omwenga said.
Lucy Wakiaga, an education expert, asked Kenyans to engage with their children in useful assignments and stop lamenting about resumption of school.
"We are an exam oriented and obsessed country. We don't have to push our children back to school to sit exams when we know we are endangering their lives. Exams are set by people and can be adjusted but not lives," Wakiaga said.
Magoha listed minimum reopening conditions that should be met before the re-opening date in January. They include reducing physical contact by having fewer learners.
Upon resumption of learning, schools must have put in place measures to ensure social and physical distancing, which is the most critical factor in ensuring safety and health of learners.
Handwashing with soap and use of sanitisers, wearing of face masks and monitoring of body temperature will also be the minimum requirements for the health and safety of learners.
To ensure learners are engaged, Magoha said his ministry will enhance remote learning which include online, distance and e-learning and explore innovative approaches to promote equity.
[The Writer is a 2019/20 Bertha Fellow]