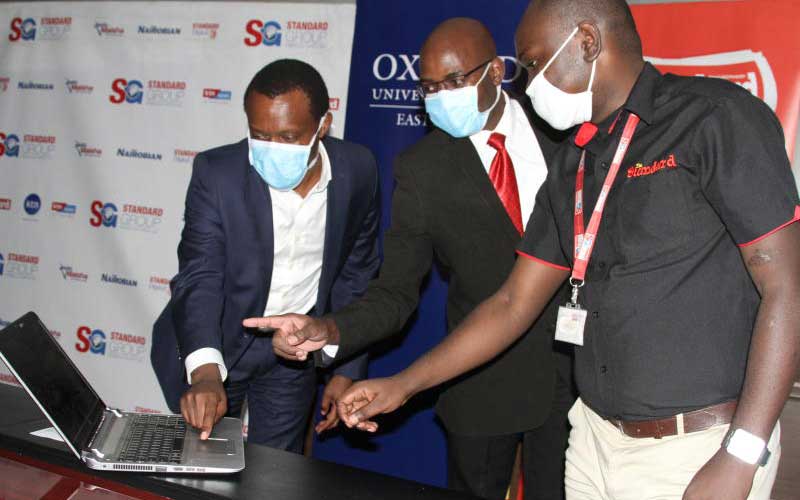 The Standard Group in collaboration with Oxford University Press yesterday launched an e-learning platform to help students continue pursuing their studies from home.
The platform, Tutor-Soma, was built to keep students engaged at home while schools are closed.
For only Sh10 a day, students can log into the platform and get access to unlimited content to enhance their learning.
Standard Group CEO Orlando Lyomu said they saw a gap in the market and felt the need to build a platform to ensure students keep learning at home and can test themselves on what they have retained.
Mr Lyomu said the Tutor-Soma platform has been around for some time but the company has always felt the need for further development.
"I believe the pandemic, as much as we see it as a crisis, we also see it as an opportunity," he said.
Previously, the platform offered only past exam papers for revision, but there is now much more content available.
Oxford University Press East Africa boss John Mwazemba noted that in the run-up to exams, students can get anxious if they cannot access their teachers.
"Exam time is always a tense time for students. I am excited because we can come together and give each other synergies," said Mr Mwazemba, adding that Tutor-Soma would help students better prepare for these tests.
Further, he said, the content has been approved by the Kenya Institute of Curriculum Development.
"The content has been used before and is, therefore, accurate. We ask students and parents to take advantage of this," said Mwazemba.
Lyomu said the initiative would continue to grow as the company plans to bring on board other partners.