Kenyans caution PS against banning MP's online lessons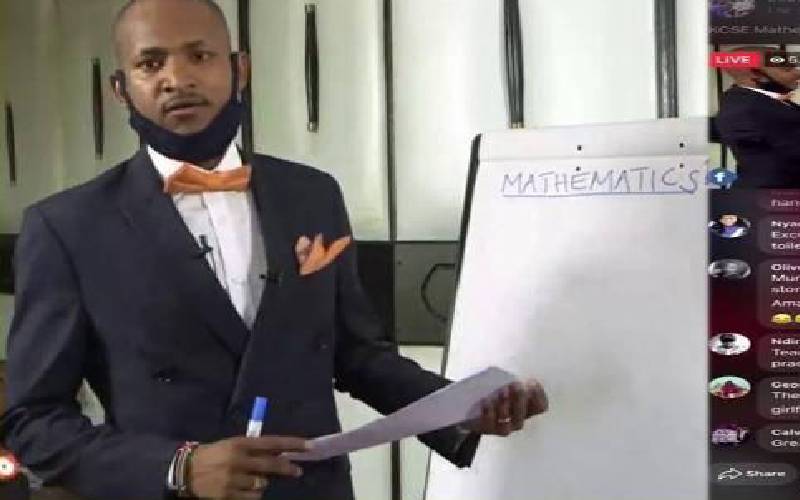 Embakasi East MP Babu Owino has faulted Education Principal Secretary Belio Kipsang for banning his viral lessons online.
The controversial ODM legislator has defended his online classes, saying they are meant to help students during the school disruption occasioned by the coronavirus pandemic.
Babu took to his tweeter account to condemn the PS, saying his action was uncalled for and out of touch with the realities on the ground.
"The PS is basking in the glory of his ignorance by banning our lesson," he tweeted on Thursday and urged candidates to tune in to the Chemistry revision lesson at 2pm today.
Kenyans on social media backed the MP and urged him on saying thousands of candidates had benefited from the lessons and will be disenfranchised should the lessons be quashed.
Some users dismissed Kipsang's remarks saying they contradicted an earlier statement by the government directing parents to help their children revise while at home.
"It is the same government that told parents to help children revise while at home, now that we have one brighter MP than parents what is wrong with him teaching the children?" posed Mandela Babu, said Facebook user.
"Dr Belio Kipsang's statement that anyone offering teaching services to students during this pandemic other than teachers registered by TSC is not only uncalled for but also out of touch with reality. If that's the case, then he must bar all parents who do revision with their kids," Linus Gerald tweeted.
'Overqualified'
Gerald said it was wrong for the government to condemn a lesson that attracted more than 8000 students with all agreeing that 'Teacher Babu' was overqualified to offer the lessons.
"It is high time the government appreciated efforts by the Embakasi East legislator, adding that the lessons were very popular and the students are so eager to learn."
Other Kenyans are elated by Babu's action and have challenged other politicians to take a queue from young lawmaker now that most of them have failed to deliver on their election pledges.
"If my Governor Cyprian Awiti wants me to spare him for his poor performance, let him take after Babu and offer even CRE lessons to the students of this country," a Facebook user posted
Dennis Mukabi cautioned the PS against interfering with the lessons, likening them to reggae that cannot be stopped.
"This the real reggae that cannot and will not be stopped," he said.
Churu Kimani, a Facebook user, commended Babu for his lessons but challenged him to come up with a law that will ensure there are job opportunities to ensure his lessons don't go to waste.
"What Babu is good, but I hope he will use his legislative power to make sure there is a good job environment and many opportunities for graduates and entrepreneurs. To ensure your lessons weren't useless," he posted.
KICD approval
Kipsang on Thursday said it is illegal for anyone to teach students without requisite qualifications.
He said any material delivered to students must be approved by the Kenya Institute of Curriculum Development (KICD).
"It is illegal for anyone to teach students without prerequisite qualification. It is equally illegal for anybody to circulate e-learning information that is not approved by KICD," he said.
Orange Democratic Party (ODM) congratulated the MP for conducting the online lessons after his mathematic lesson conducted online on his Facebook account.
"Embakasi East MP became the first ever legislator to spare time to take KCSE candidates through mathematics revision papers live online. Students and pupils have been home for the last two months following the closure of schools due to the outbreak of Covid-19" the party tweeted last week.
Babu last week conducted a mathematics revision class live on his Facebook page.
In the one-hour-25-minute lesson, Babu handled questions in various topics including differentiation, calculus, integration and trigonometry.