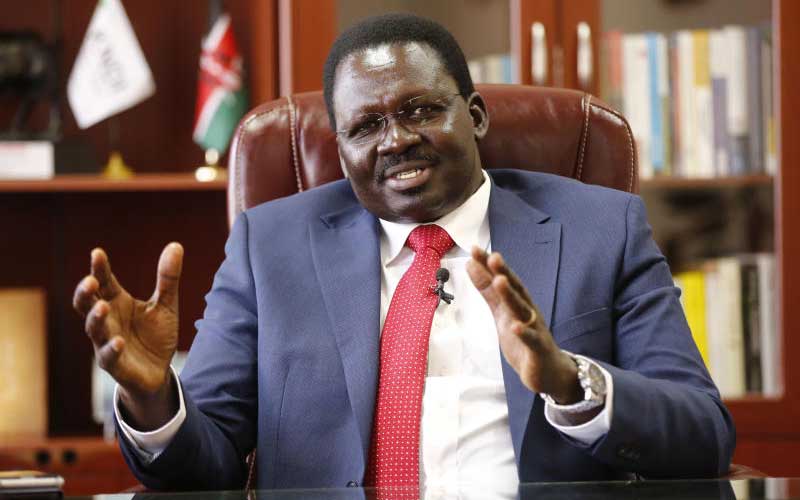 Schools and colleges are all closed nationally in the wake of the coronavirus pandemic, but for Kabarak University, lessons go on uninterrupted, albeit virtually.
For every student, a lesson after the other comes on through notifications that pop up on the screen of a computer or mobile phone or on email. The notification indicates whether there is a planned discussion, an assignment or a web-conferencing.
In the past two weeks, lessons for over 870 courses have been going on online, as over 3,500 students log on the portal and learn from the comforts of their homes.
"When the government gave a directive that all schools close as part of the measures to contain the spread of Covid-19, we were only remaining with three weeks to close the semester. We thought of taking the courses online so that the studies are not disrupted since our e-learning portal has been fully functional since 2014," says Moses Thiga, the Director of Kabarak University Online.
Dr Thiga says 4,200 students were in session this semester, of the total population of over 8,000, some of whom were on long holiday.
Read More
"We thought it prudent to let the students continue with their lessons uninterrupted. Out of the 4,200 students, 3,516 who are enrolled for courses that can be supported by e-learning are on. Over 870 courses are offered online," he says.
About 180 lecturers were trained on how to use the e-learning portal and a guide was developed for both students and lecturers. An online support team took the students through how they could check for assignments, notes, live chats, web conferencing and how to upload the done assignments.
"It is a very interactive platform and both lecturers and students are already working on it. It is already a big success and the lecturers are fast catching up," says Thiga.
"Some lecturers even record videos for the lessons, conduct web conferencing and live chats during discussions," he says.
A student can log in to the system at their own time and check on the notifications. The notifications might include a message from a lecturer inviting students for a live discussion at a stipulated time. The student can also read through the notes and work on assignments offline then upload them on to the system.
The portal has been enabled for computer, iPad and smartphone to ease accessibility.
While some lessons, such as discussions, dictate that everyone has to be online at a certain time, in others, students log on at their own times, work on assignments and submit within the set deadlines.
"Our statistics reveal that most students (36 per cent) log on to do their work between midnight and early morning. 31 per cent log on between 5am and noon. Only nine per cent log on from 5pm to midnight," Dr Thiga says.
For a successful e-learning, the university management and the ICT department provide support in managing the system in cases of breakdown.
Although there are challenges, including internet connection affecting students, Thiga says most of them have adapted and are managing well.
Anthony Musabi, a technician at the university, says online teaching and learning is possible as long as there is enough support and willingness.
"The system is easy to use and very interactive. It can easily be accessed and a student can do the assignments while offline in a PowerPoint presentation and just log on to upload," says Mr Musabi.
He says for a successful e-learning process, training is required for both lecturers and students, who are also required to have devices and reliable internet connection.
In the system, a lecturer can also mark assignments and award marks, which a student can then access.
Kabarak University Vice Chancellor Henry Kiplagat says venturing into e-learning is the new global trend that has seen many students opting to learn from the comforts of their homes and at their own time.
"There is a huge demand for e-learning among students, which is also a global practice and a growing trend. Our system has been on since 2014 but we up scaled to take in the large number of students following the school closures," says Prof Kiplagat.
The growing uptake of e-learning in the face of technologies, he says, has also revamped the education sector while also giving those employed a chance to further their education and learn at their own pace and time.
"E-learning recognises unique needs of each student and lets them learn at their own time and pace while getting equal opportunities. A student can also have their own learning plan. It also comes in handy during such times when there are learning disruptions," says Kiplagat.