Rules for schools upgrade are ready now, says Magoha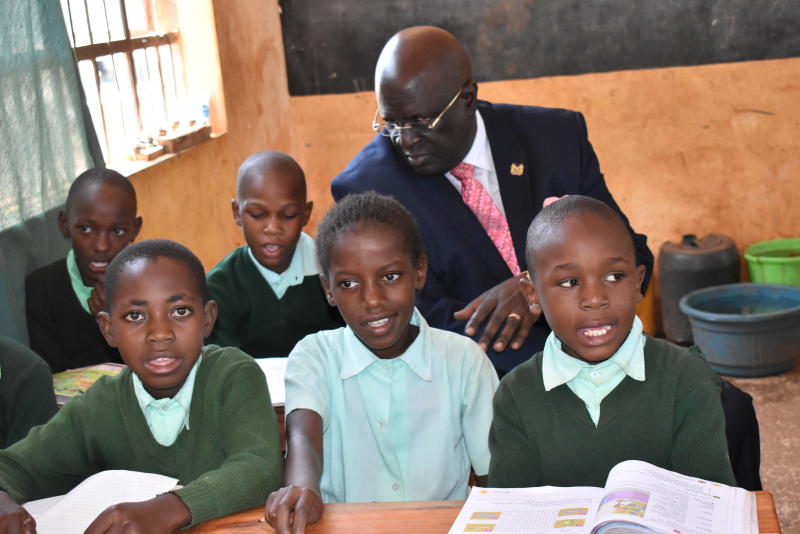 New rules to guide expansion, upgrade and construction of schools have been developed, Education Cabinet Secretary George Magoha has announced.
Prof Magoha said the new guidelines will be the point of reference for all stakeholders during implementation of the Competency Based Curriculum (CBC) at various basic education levels.
This means once ratified, the guidelines will offer clear procedures on how existing primary schools with proper infrastructure may be converted to anchor junior secondary schools.
They will also inform procedures to be followed in creating additional classrooms in schools or when starting up a new institution in readiness for full transition to the CBC under the 2-6-3-3-3 education system.
Speaking in Parliament recently, Magoha hinted that to meet the deep infrastructure needs during CBC transition, some primary schools may be converted to secondary institutions.
"As we implement the CBC we must plan ahead of time. We must build secondary schools now because in three years time there will be a crisis during transition," he told MPs.
With inadequate funding, he the ministry is already mulling whether some primary schools with proper infrastructure should be converted to junior secondary schools.
Documents seen by Saturday Standard reveal that the ministry has mobilised all regional officers to systematically appraise existing infrastructure as the rush to establish transition infrastructure mounts. Part of the infrastructure audit entails holding county stakeholders meeting to collect data.
The data from schools will include features such as size of school compound, classrooms, available toilets for boys and girls and size of play field.
Also to be recorded are laboratories, dormitories, workshops for tertiary institutions and available security features such as gates, fence and CCTV.
County engagements
Staffing data for each school, location and distance between one institution and the next, total enrollments, land mass area and whether it has a title deed will also be recorded.
Risks around the schools such as cattle rustling, terrorism, inter community clashes, droughts and floods and other lifestyle diseases will also be recorded. For TVET, the task force wants institutions land area indicated and whether it has a tittle deed. The number of tutors/staff in the college is also needed.
Parents, teachers, learners, faith based leaders, area chiefs, private schools providers, officials of teachers unions and associations will be required to take part in the county engagements that will take stock of schools infrastructure across all the 47 counties.
The latest development to assess existing infrastructure point at the difficulty the Ministry of Education is facing in planning for smooth transition from primary to secondary schools.
Some proposal calling for each of the major schools – national, extra county and county – to create a stream that would be converted into junior classes have already been fronted.
Other stakeholders have proposed that all national schools be converted into centres of excellence, to anchor the various pathways envisaged under the new curriculum.
The new curriculum seeks to eliminate wastage as all children will transit to next class and career paths – arts and sports, social science and STEM – created at secondary level.
Magoha said the new regulations being fine tuned for ratification have been developed by the Task Force on Enhancing Access, Relevance, Transition, Equity and Quality for Effective Curriculum Reforms Implementation that he gazzetted in June last year.
The team is expected to advise on assessments for all levels of basic education, teacher education curriculum and establishing structures for effective working relationship between the national and county government in the implementation of CBC at pre-primary school level.
Most importantly, the team will advise Magoha on among other issues, 100 per cent transition of all learners from Grade 6 (primary) to Grade 7 (junior secondary) in 2023.
They will also project on establishment of senior secondary schools pathways and tracks for transition in 2026.
President Uhuru Kenyatta has already said that implementation of the new curriculum will not stop because of inadequate infrastructure.
Push and shove
"I rather they (pupils) be under a tree rather than being in the streets sniffing drugs. Gradually we will get the infrastructure needed," said Uhuru. "Let us avoid unnecessary push and shove. I am committed to the reforms in education."
The guidelines will therefore seek to answer most questions and give direction on how the existing gaps on infrastructure would be plugged ahead of time.
Speaking during a meeting of national and county education officials on task force stakeholders' engagement and data validation, Magoha said the new regulations are presently undergoing through internal validation by the ministry and its agencies.
"By next month, we will be ready to subject the regulations to stakeholder participation before gazetting them," said Magoha.
National, county and sub-county transition committees will be formed to help fast track implementation of the CBC.