TSC pick in a spot over CV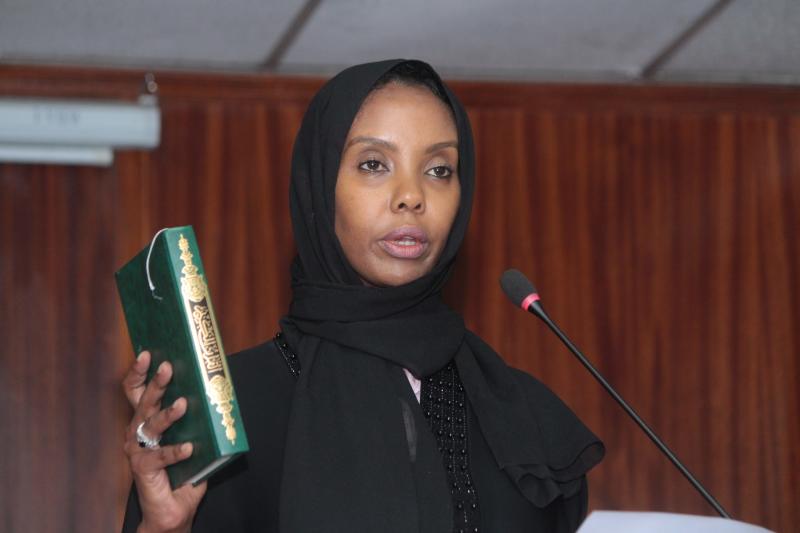 A nominee for top office at the Teachers Service Commission (TSC) ran into trouble during her vetting over glaring inconsistencies in her academic background.
Leila Abdi (above) told the National Assembly Education Committee she was born in Somalia and holds both British and Kenyan citizenship, but was ready to denounce her UK citizenship if confirmed to the position.
The committee chair, Tinderet MP Julius Melly told Leila, who said she applied to be a Kenyan citizen in 2006, to provide evidence of her citizenship and that of her parents by the end of today.
Leila also presented a Curriculum Vitae with glaring gaps.
"The contradiction that we are finding in the nominee is wanting," said Pamella Awuor, Migori County Woman Representative.
The CV shows she is currently a senior Auditor at Baker Tilly Merali and a board member serving her second three-year term at the Competition Authority of Kenya. Between 2004 and 2006 she was studying at Uxbridge College, UK and London South Bank University, UK respectively.
Mock exams
When asked why she just presented a result slip of her mock exams, she said: "I left before the results came out, and when I came back, I did not follow up."
Nominated MP Wilson Sossion directed her to present her O- and A-level original certificates.
Ali Hassan, a private citizen, had written to the committee questioning Leila's education background and that as per the selection, she is supposed to represent North Eastern yet she was not from any of the counties in the region.
Another nominee, Mbage Njuguna, a lawyer, said the value he would be adding to TSC will be oversight, policy development, strategic direction, leadership and corporate governance as well as maintain its independence.
The two names were forwarded by President Uhuru Kenyatta from a list of nine forwarded to him by a selection panel chaired by Zetech University Vice Chancellor John Njenga.
If confirmed, they will replace commissioners Cleophas Tirop, Salome Gichura and Saadia Kontoma, who retired after the their six-year tenure expired. The three positions attracted 24 applicants.