Magoha's form one headache as deadline lapses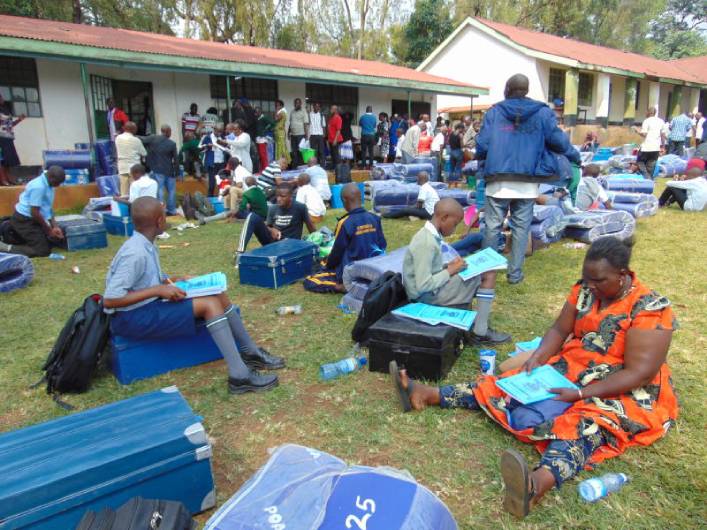 Form One admission deadline lapsed yesterday even as questions emerged over the push by the government to absorb all candidates to secondary schools.
Poor state of school infrastructure, inadequate teachers and lack of proper social care to support learning have been cited as major bottlenecks that must be addressed even as the ministry pitched a strong case to implement the 100 per cent transition policy.
Yesterday, Education stakeholders said congestion in classrooms and dormitories do not support quality education and singled out inadequate laboratories and libraries to support proper learning in schools.
Also listed among major concerns are the growing cases of insecurity, especially in the northern frontiers and other parts of the country, which is threatening to cause low registration even in schools with bigger capacities.
Insecurity in some counties – Garissa, Mandera, Wajir, Lamu – have led to mass exodus of teachers with fears the available schools capacities may not be fully utilised.
It also emerged that some schools will remain overstretched as parents seek to admit their children in institutions that register good academic performance.
Six counties – Nairobi, Mombasa, Kajiado, Kilifi, Narok and Kwale -- registered highest number of schools with inadequate vacancies, which means that candidates from these regions will flood other counties for admissions.
Yet the ministry's plan to improve some 19 top performing boarding schools to have day wing to accommodate more students, has backfired.
Starehe Boys Centre, Moi Forces Academy, Nairobi School, Kenya High School, Lenana School and Pangani Girls were some of the top schools that were picked to admit additional students under day programme.
Thousands more
Ngara Girls, Moi Girls, Buru Buru girls, Embakasi Girls, Arya Parklands, Nembu Girls, Dagoretti High, Upper Hill, St Georges, State House Girls, Hospital Hill, Ofafa Jericho and Langata secondary were also identified.
The programme seemed to have been dropped as Education Cabinet Secretary George Magoha did not make any reference to the course during the entire placement process.
If implemented, it would have accommodated thousands more in the schools that post impressive grades.
Prof Magoha admitted this week that over-stretched school infrastructure and facilities such as classrooms, science laboratories, dormitories and playgrounds are still a major challenge in secondary school admissions.
By last evening, Ministry of Education staff were keying in data into the National Education Information Management System (Nemis) portal after it emerged that some regions with poor Internet connectivity registered low entries.
It was not immediately clear the number of candidates who have taken up their allocated slots in the respective schools.
The students were expected to report for admission from January 13 to 17.
A total of 1,083,456 candidates sat KCPE examinations last year and the Ministry of Education has placed 1,075,201 in public secondary schools.
Kenya Union of Post Primary Education Teachers (Kuppet) Secretary General Akello Misori said the number of available teachers in secondary schools does not support the bloated admissions.
"We are overburdening teachers and expecting them to work miracles. Huge number of students in classrooms must correspond with available human resources for effective learning," said Misori.
Misori said reports filed by some of its members reveal that schools that were designed to admit 400 students have now pushed to take in tree times their capacity.
"There is even little space for the students to play during break and this is unfortunate," said Misori, whose union largely represents teachers in secondary schools.
Misori said the Kuppet report on state of schools infrastructure also unearthed cases where dormitories designed to carry a beds of double decker were now holding triple decker beds.
"Some students are literally sleeping next to the roof and this is stressful to learners," said Misori.
Misori said the union has also noted that most schools do not have proper social support systems such as counseling and career guidance personnel.
"The whole system must be well though out even as we support the 100 per cent transition because no child should be denied education," said Misori.
But in a statement on government efforts to improve learning conditions, Magoha defended why all children must join secondary schools and announced the launch of a nationwide mop up of students from next week.
He said the government has provided Transition Infrastructure Grants to schools for expansion. Some Sh8.2 billion has been set aside towards Secondary Education Quality Improvement Project (SEQIP) to better infrastructure in secondary schools in 110 sub-counties across 30 counties.
The funds will be used to construct new fully equipped laboratories in 785 secondary schools.
Another 962 new fully equipped classrooms will be constructed in 561 secondary schools. Some 1,843 toilets will also be put up in some 1,783 primary schools.
Prof Magoha also said that some 60 special needs education primary schools and four in secondary will benefit from some Sh3 million each for infrastructure improvement.
Textbook ratio
In addition to these, Magoha announced that the government had set aside Sh1.5 billion towards improvement of infrastructure in secondary and primary schools respectively.
"There is an additional Sh300 million for improvement of infrastructure in national schools," he said.