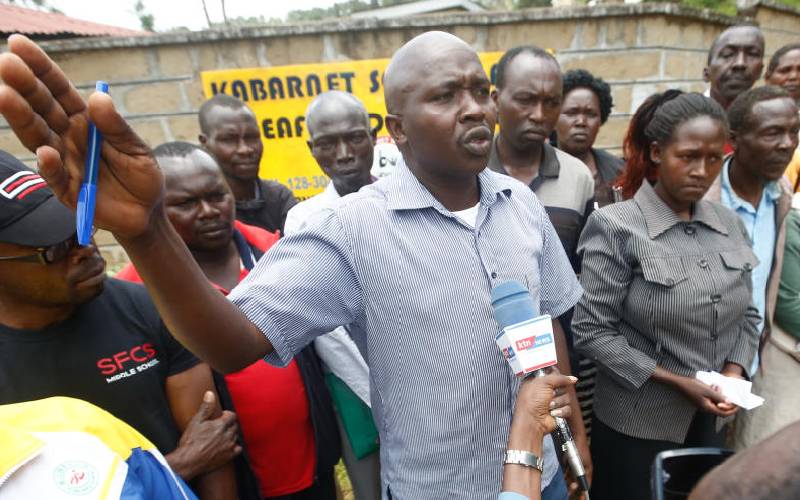 Four months after the Kabarnet School for the Blind and Deaf was shut following a strike by non-teaching staff over salary arrears, nothing much has changed.
And yesterday talks between employees and the institution's board of management over the payment of Sh4 million collapsed.
The special school was shut down in September last year after the 31 workers downed their tools to protest against a 15-month delay in paying their salaries.
The closure has seen nearly 80 learners with special needs forced to stay at home.
Although education officials declined to comment on the matter, workers who spoke to The Standard said the meeting lasted for nearly seven hours.
Workers' grievances
While the government officials promised to address their grievances, the workers said they were not prepared to listen to more empty promises.
The employees said they were finally asked to leave the school compound and return when they were ready to resume their duties.
Paul Rotich, a non-teaching staff at the institution, said the Ministry of Education had broken its pledge to settle their arrears thus their decision to resort to industrial action.
"The government promised to pay us in two phases. These were just empty promises and we have decided we will not allow the re-opening of the school till we are paid to the last cent," said Mr Rotich.
The staffer said that since their initial meeting last September, they had been languishing in poverty.
"The government does not seem to care about the needy learners hence the decision to frustrate us. We play a key role in the running of the institution and need to know what is in store for us."
Rotich said they had advised parents not to take their children back to school because there was nobody to care for them.
School matron Susan Cherogony said they no longer had the morale to continue working because they were deep in debt.
"The strike continues. We need to be paid our dues before we can go back to work," said Ms Cherogony.
The matron described the school as a "once safe haven for learners with special needs that has been neglected."
Members of the board of management refused to speak about the stalemate.
Rift Valley Regional Director of Education John Ololtuaa said his office was not aware of the matter.
"The issue has not come to my attention. I will inquire from the county director and get back to you," said Mr Ololtuaa on the phone.