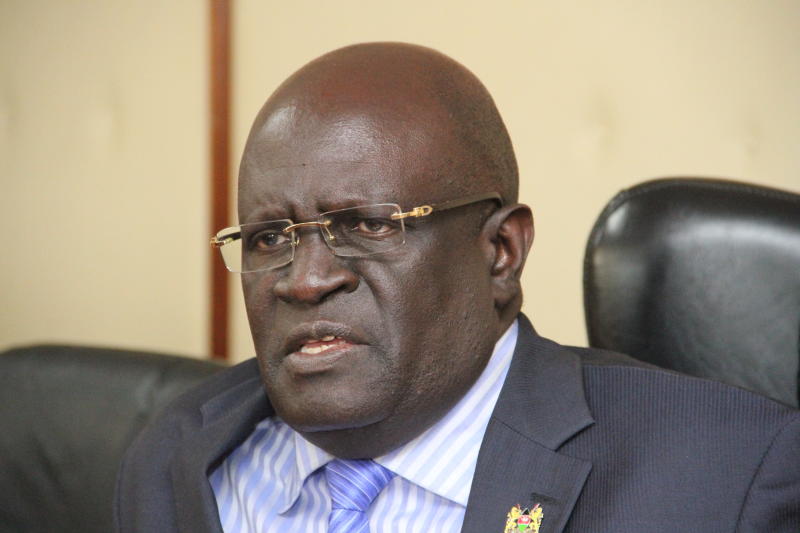 The government is ready to roll out the Competency Based Curriculum (CBC) for Grade Four despite opposition from a teachers' union.
Education Cabinet Secretary George Magoha says the roll-out of the curriculum will go ahead on January 6.
"I wish to assure the country that, as recommended at the National Curriculum Reforms Conference held at the KICC in August, 2019, which was graced by President Uhuru Kenyatta, the ministry is now fully prepared to roll out the CBC in Grade Four from Monday. The last batch of teachers is being trained this holiday and will be ready," Prof Magoha, (pictured), said yesterday.
The CS said his ministry had supplied Grade Four textbooks in 97 per cent of the counties, adding that the remaining counties would be reached before schools open.
Magoha said the government had revised the lowest pre-service teacher training qualification from certificate (P1) to diploma level "for sustainable capacity development of teachers under the CBC, and to improve the quality of education".
Read More
"A curriculum for this new level of training has been completed and the new cohort of learners will be admitted to various colleges in 2020. I expect relevant departments to release details of the application and training process in due course," he said.
National examinations
Magoha reiterated that there would be no national examinations in Grade Six.
"To further provide directions on transition of the first CBC cohort from primary to junior secondary school in 2023, I wish to announce that the task-force that I set up to advise me on curriculum reforms is in the process of finalising regulations and guidelines on the establishment of institutions under the basic education framework.
Magoha said the proposed regulations and guidelines would be subjected to public participation before gazettement.
"Part of the proposals that we will expect Kenyans to dialogue on will be a recommendation that my ministry establishes transition committees at the national, county and sub-county levels."
He explained that the terms of reference for the committees would be to put in place strategies to ensure 100 per cent transition of learners from primary to junior secondary schools.
The CS assured that CBC would be anchored on evidence-based decisions. "As a result, the task-force on curriculum reforms is recommending to set up a watertight monitoring and evaluation system in 2020 that will include baseline data indicators that will be relied on from time to time to make solid decisions on prudent utilisation of resources across the sector."
At the same time, the Teachers Service Commission (TSC) is set to train 106,320 teachers on the CBC from tomorrow to Sunday. The teachers, who will be drawn from public and private schools, will also include head teachers and tutors from special needs schools.
"This training will target one teacher for Grade One, Two and Three from each participating public or private school. Additionally, two Grade Four teachers from each public and private school will be trained," TSC chief executive Nancy Macharia said.