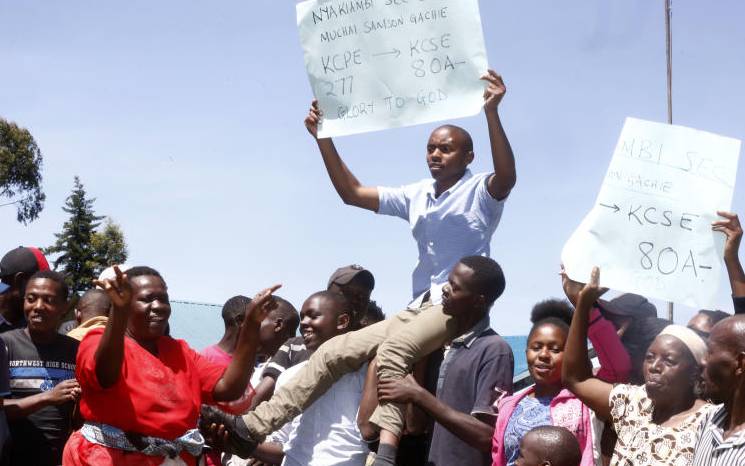 Operations at Arimi village came to a standstill after locals joined Samson Gachie Muchai to celebrate his performance in the just-released Kenya Certificate of Secondary Education (KCSE) results.
Muchai, 17, a day scholar at little known Nyakiambi Secondary School in Molo Sub-county, scored A minus of 80 points.
The third born in a family of six was also applauded by Education Cabinet Secretary George Magoha during release of the results, having scored 277 marks out of 500 in his Kenya Certificate of Primary Education (KCPE) exams.
"I am so happy to be joined by the entire village in celebration. All this is by God's grace," said the student, adding that when the CS mentioned his name, he shed tears of joy.
Among strategies he put in place was to conduct regular revision and seek guidance of teachers.
"I was really discouraged after receiving my KCPE results four years ago. I felt like I had let down my family and siblings," Muchai remembered.
At home, he would revise with his elder sister Gabriel Muchai, who was his role model, having studied at the same secondary school and scored B- (minus) last year.
Muchai is looking forward to undertaking automotive engineering at Kenyatta University. His mother Faith Ngina attributed the good performance to his great discipline and self-drive.
"My son takes advise from me and his elder siblings. He is such a disciplined person, a virtue I attribute to his excellent performance," she said.
Muchai's mother is a tailor while his father, Isaac Gachie, is a driver in a local school in Nyandarua County.
"My son has shocked me. How could he have improved with such a big margin? I am a proud father and will give him necessary support to attain his dream career," he said.
The school principal, Francis Kariuki, attributed the immense improvement of the learner to discipline and dedication to academics.