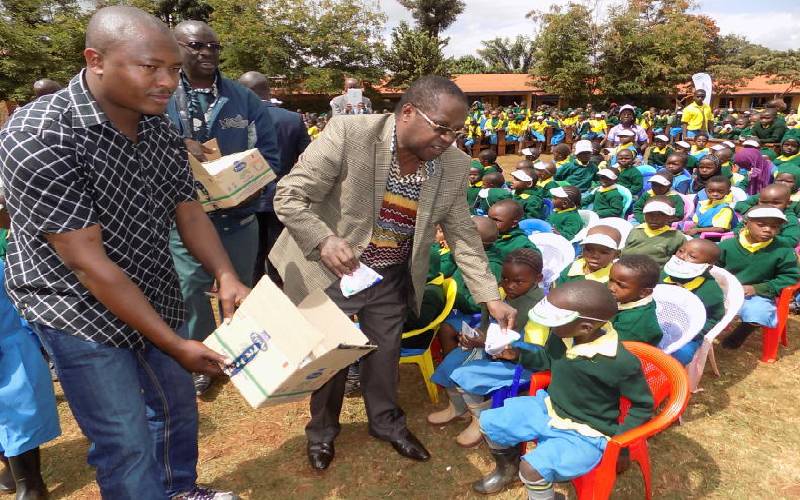 Most countries in Sub-Saharan Africa have invested unwisely in pre-school education in comparison to primary, secondary and tertiary education, according to UNESCO and the International Labour Organisation (ILO). An early childhood education policy analyst at UNESCO International Institute for Education Planning Diane Coury, told a conference in Casablanca, Morocco last week that only two per cent of Sub-Saharan Africa's education budget goes to pre-primary education.
While enrollment rates in pre-primary education in other parts of the world had been growing faster, the situation had been different in Sub-Saharan Africa. "Currently, the average pre-school participation rate in the region stands at 32 per cent compared to the median global gross enrollment rate of 50 per cent," Coury told delegates that included education officials from Kenya. So far, only one in seven children are enrolled in a pre-school programme, compared to one in three for all developing countries put together.
But beyond low enrollment levels, pre-school education in Sub-Saharan Africa suffers acute shortage of trained teachers compared to the primary education sector. Oliver Liang, the head of public and private services at the ILO, in a presentation at the conference said most pre-school teachers in Sub-Saharan Africa lack training, professional development opportunities, pedagogical support, career development pathways and adequate working conditions. "The reality on the ground is that most of pre-school educators in the region are not just poorly qualified and underpaid but lack recognition and professional status," said Liang.
No doubt that is the situation prevailing in Kenya's pre-primary education sector whereby in spite of progress made in terms of gender equity, the sector is undergoing many challenges, characterised among others by shortage of qualified teachers, shortage of instructional and plays materials, high pupil teacher ratio, and inappropriate teaching methods. The Ministry of Education national policy on pre-primary education identifies lack of learning materials, unsafe learning environment, insecurity, long distances to pre-primary education schools, shortage of appropriate sanitation facilities and poor childcare practices. "Teachers' capacity to handle learners with special needs is inadequate," states the Ministry of Education.
In a nutshell, Kenya's national policy framework on pre-primary education is an eye-opener that whereas investing in pre-school education could be one of the smartest things a country can do to eliminate extreme poverty, boost shared prosperity and create the required human capital; most countries in Sub-Saharan Africa, Kenya included have ignored this basic logic. In Kenya, the National Committee for Early Childhood Development - a body that has no technical capacity - is not even housed at the Ministry of Education but at the Children's Department in the Ministry of Gender, Children and Social Development. In this regard, there has been duplication of efforts and inefficient use of resources leading to low quality services.
According to the taskforce that prepared the National Policy on Pre-primary Education 2017, financial limitations in terms of low budgetary allocation are glaring at national and county governments. According to the report, there are no capitation grants at the pre-primary level or support grants for children with special needs," pointed out the taskforce. What is not in question is that most pre-primary schools in Kenya suffer from inadequate physical facilities, play and learning materials, assistive devices for children with special needs, unfriendly environment, inadequate clean safe water, and sanitation facilities.
Besides, over the years, pre-primary in the country has been faced by inadequate personnel with the necessary skills to handle holistic care and support for pre-primary learners, especially those children with special needs. Lack of a scheme of service for pre-primary teachers in the sector has resulted in poor remuneration, low staff morale and high attrition of trained teachers. Research shows that teachers are the main determinants of quality pre-primary education.
As for Kenyans, it is good to take Coury's word of advice: "Even with the best learning resources, children will not be able to benefit from quality learning without attentive, responsive, well-trained and motivated teachers, which calls for increased and sustainable investment in training, improvement of status, working conditions, development of professional and career prospects for pre-school teachers."