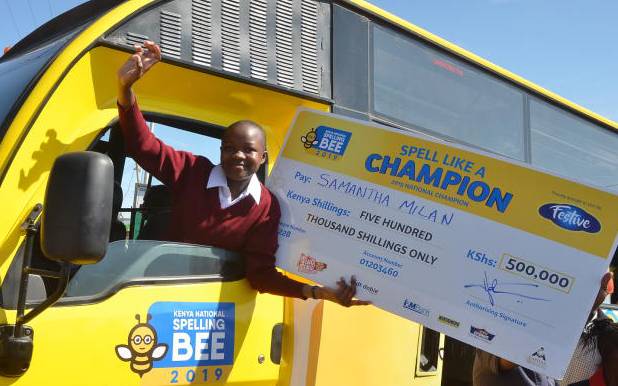 Samantha Milan, 13, a pupil from Siaya County, is the winner of the 2019 Spelling Bee National and Africa Championship competition.
Milan (pictured), who sat her Kenya Certificate of Primary Education (KCPE) exam this year at Nyamninia Primary School, was elated by the win which she says came as a surprise.
"The African Championship Competition was different from the Kenyan National Level One. At the national level, we had 20 seconds to spell a word while in the Africa Champion, we had 60 seconds," said Milan, who aspires to be a journalist, said.
Milan scored 382 marks in KCPE and has been selected to join Butere Girls High School in Kakamega County.
"We didn't expect her to go up to the national level, being the first time she was participating in the contest. She is a very obedient, God-fearing and hardworking child...," said her father, Nicholas Bolo.
During the competitions, Milan came third in Gem sub-county and moved up to second place at the county level of the competition.
At the national level, she clinched position one and maintained the lead in the finals of the African championship in Jinja, Uganda, held last month.
The competition brought together the best junior and senior spellers from 11 African countries: Botswana, Ethiopia, Ghana, Kenya, Malawi, Nigeria, Sierra Leon, South Africa, Sudan, Uganda and Zambia.
At group level, Nigeria came first while Kenya was first in individual level junior category.
Kenya was represented by Milan, Hope Wangui from Nyeri Primary School (Nyeri County) and Abigail Iteyo from Mudasa Academy (Vihiga County. All of them were in the junior category.
Milan got a cash prize of Sh500,000 for the African Championship and a laptop. She also received a trophy, and a tablet. Her school got a 26-seater bus from DT Dobie. Her teacher of English received Sh50,000.
The first and second runners-up received Sh300,000 and Sh200,000, respectively, and a laptop each. Their teachers of English received Sh30,000 and Sh20,000, respectively.