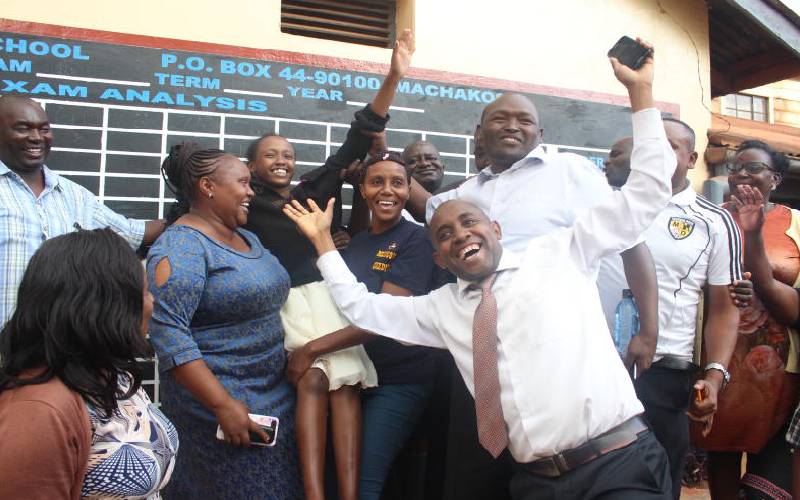 There was celebrations among those who scored highly in this year's KCPE examination in various schools across Machakos County after they managed to secure placements in leading national schools. Muli Mutanu who topped Machakos Primary School KCPE class of 2019 with 420 marks has been picked to join Mary Hill Girls High School while her classmate, Abigail Kainda, who scored 417 marks, will join Alliance Girls. Nicole Ndanu who scored 411, Mwaniki Victor (402) and Makau Victor (395), also from the same school, will join Kenya High, Alliance High and Lenana School respectively. Kimeu Brian will join will join Moi Forces Nairobi after scoring 397 marks.
SEE ALSO: No KCPE, no KCSE this year
In Tala Township, the top candidate, Gakuya Vincent, who scored 416 marks has been called to Mang'u High while his classmate, Peace Narocho joins Kenya High School with 412 marks. 6 Nairobi School has also picked another student from the same school, David Munyiala, who scored 390 marks. A privately run school, Kyandu Bright Academy in Kagundo will also take some of its top candidates to prestigious national schools. They include Grace Mutanu (411) Lugulu Girls, Mercy Karimi (407) Pangani, and Kelvin Kinyua (407) Alliance High.
SEE ALSO: Are candidates left on their own?
The other two top performers, Lilian Ndunge who scored 402 marks and Immaculate Mwende, who garnered 401 marks will both join Muthale Girls. In Jonazaria Academy, Kathiani, the top candidate, Immaculate Ndumi with 411 marks is headed to Pangani Girls while her classmate, Mary Nduku —who scored 400 marks — will join Moi Girls Isinya for her secondary school education. Samuel Mutua who managed a mark of 400 has been called to Mang'u High. From the same school, Emmanuel Muuo and Ann Munini who scored 394 and 399 marks will join Mang'u High and Siakago Girls respectively. In St Francis of Asisi, Nguluni, two girls — Hilaria Wayua and Nicole Mwende — will join Pangani Girls after scoring 413 and 412 marks respectively.
SEE ALSO: KCPE, KCSE candidates could sit exams in April 2021
Felix Mutua and Samuel Tovi, who scored 404 marks each, will join Makueni Boys. [Erastus Mulwa]