Kitale School scoops 65 top slots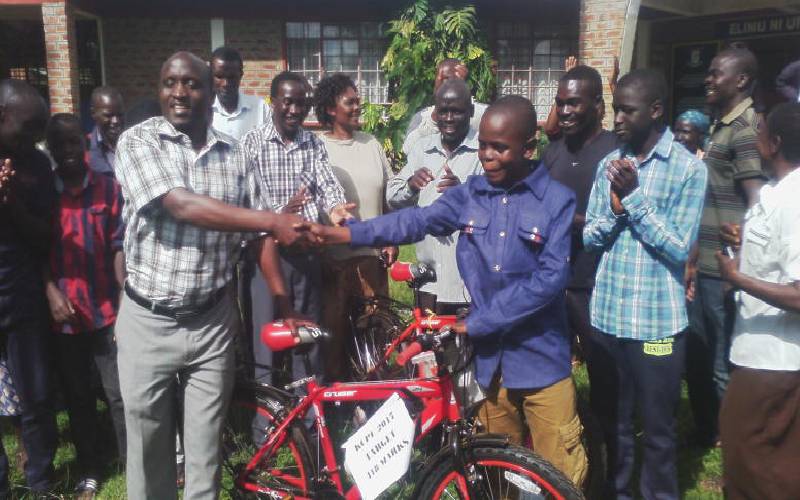 Pupils from public schools in North Rift scooped slots at leading national schools in Form One selection unveiled by Education Cabinet Secretary George Magoha yesterday.
Kitale School topped in the region with 65 learners selected to join national schools.
Siketi Sydney Wekesa and Omondi Brian Otieno of Kitale School who scored 423 and 422 marks respectively were selected to join Mangu High School. Woody Shekinah Emali who ranked third at the same school with 421 marks was selected to join Alliance Girls High School.
Frida Nakhanu Wafula, the top KCPE student in Trans Nzoia County, was selected to join Kenya High. She sat her exams at Line Member School Kitale.
At African Inland Church (AIC) Kosirai Primary, a public school in Nandi County, 31 of the total 40 candidates were admitted to national schools while nine got selection to extra-county schools.
At Bishop Muge Memorial Primary School in Mosop, also in Nandi, 55 of the total 71 registered candidates were selected to join national schools.
"Most of our candidates were selected to their preferred schools," said Mr Sammy Sawe, the school headteacher.
At Kalyet Academy in Mosop, 35 KCPE candidates had by yesterday afternoon confirmed to have been selected to national schools.
St Mathews Septonok Primary, a public school in Mosop that had scored a mean score of 378, had 60 candidates out of the registered 82 selected to national schools.
"Three candidates were admitted to Alliance Girls High School, two to Alliance High School, others joined Kapsabet Boys, Mangu among other institutions," said Isaac Magut, the headteacher St Mathews Septonok.
Kapsabet Boys Primary, a public day school, had more than 15 candidates out of 55 selected to national schools.
The best candidate in West Pokot County Stacy Cheptoo who scored 422 marks from BCFC Academy was selected to join Pangani Girls High School.
Gloria Mudoga, a girl who shocked many after her excellent performance despite being a sickling for over three years, was selected to join Moi Girls Eldoret.
"I'm excited that I have been selected to Moi Girls Eldoret. Because of my health condition, I really wanted to be near home where my parents could access and help me in case of an emergency," said Mudoga.
Mudoga scored 418 marks to top at Lamplighter School in Kiminini.