Scholars hail role of research, innovations in food security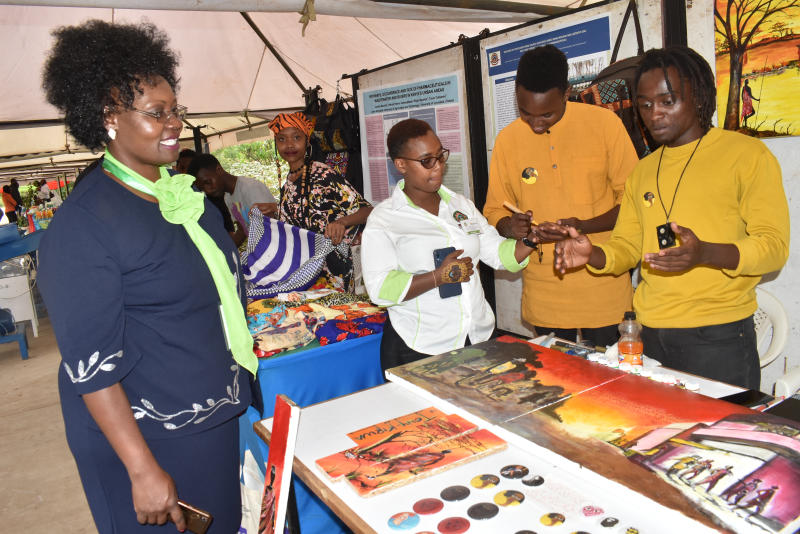 Exhibitions and research presentations geared towards addressing food security, climate change, health and affordable housing took the centre stage in a conference at Jomo Kenyatta University of Agriculture and Technology (JKUAT).
Top scholars led the 14th JKUAT Scientific, Technological, Industrialisation Conference and Exhibition, a two-day event that concluded yesterday at the Juja-based institution.
Other key presentations revolved around recycling of wastes, reducing water wastage, enriching the soil with organic nutrients and production of renewable energy.
Outside the hall where scientific researches were discussed were tents lined up with exhibitions showcasing modern innovations that offer solutions to contemporary challenges.
Painters, string artists and fashion designers, among other artists, also took part in the exhibitions.
Researcher and former Moi University Vice Chancellor Richard Mibey, Elijah Biamah who was principal of then Chepkoilel University College, among dozens of other scholars, made presentations and exhibited their innovations.
Prof Mibey presented a paper on innovation for sustainable development, while Prof Biamah led a discussion on climate change adaptation and mitigation, water and food security.
Sustainable development
A presentation on the making of concrete blocks manufactured with a blend of sawdust, fish scales and sand aggregates was also showcased.
Speaking during the opening of the conference on Thursday, JKUAT Vice Chancellor Victoria Ngumi said the presentations leveraged on research, innovation and entrepreneurship for sustainable development.
"This event serves as an opportunity for researchers to share their findings with peers and other stakeholders, both nationally and internationally," said Prof Ngumi.
She said the conference had attracted over 100 research papers covering varied thematic areas, including physical, medical and social sciences, agriculture, environment and technology.
"These areas have been identified by many developing countries as key focus issues in their development agenda. Indeed, the same is true for Kenya's big four agenda of affordable housing, access to health, food security and manufacturing," said Prof Ngumi.
Information, Communications and Technology PS Jerome Ochieng, who launched the event, called upon researchers to explore useful networks that will facilitate the up-scaling of their research findings to higher levels.