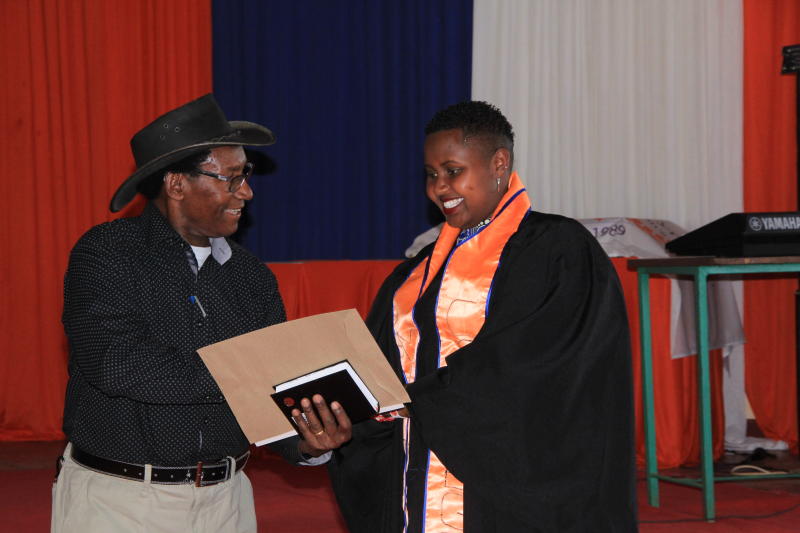 Graduating with a diploma in social work and community development was Nelly Karimi's moment to cherish.
Nelly, 22 was among 117 students graduating with diplomas and certificates at Mully College in Yatta, Machakos County after two and a half years of study. "It has taken the hand of God for me to be alive today and receive this honour. It is a big day for me," she says.
She was born in a well off family, she says. "My siblings and I were in a good school, we were picked and dropped from school".
However, their good life came to a stop during the 2007 post-election violence, and her family was left homeless.
"When l arrived at Mully Children's Family, l was counselled, but l am yet to heal," she says. "We were introduced to drugs, we peddled and abused them. Life on the streets was tough. I left in 2008 when I witnessed my friend being gang raped."
Nelly ended up in a camp at the Eldoret showground. It was here that Charles Mulli, founder of the home, found her and other children, and enrolled them in school.
Nelly went back to Langas Primary School and sat KCPE in 2011, scoring 320 marks. She then moved into the children's home where she earned herself a secondary and college education.
Winnie Nekesa shares a similar story. She says that after her parents divorced, their mother raised them but later died.
"After her burial, no relative was willing to accept my siblings and I; we were forced to live on the streets," she says.
Great day
Through connections, she was able to get into Mully home in 2017 and joined college, where she has studied dressmaking, hairdressing, catering and several other courses. She says: "I am happy to graduate. It is a great day."
Agnes Mwende, head of the college's vocational training department, says the girls are rescued from streets. Thirty one have babies, and live with their children. They are aged 16 to 23 years.
"Some of the girls dropped out of school due to lack of school fees, others came out of forced marriages with children or pregnancies and others were sex workers," she says. After graduation, those with homes leave to start businesses, while those without remain to work at the centre's production unit in tailoring and agriculture.
Mulli urges graduates to uphold values inculcated in them at the centre. "We have equipped you with necessary skills. As you leave, use them to start businesses or seek employment opportunities," he says.
Yatta Sub-county Examination Officer Samuel Ndichu asks the centre to increase number of courses offered. "The college needs to increase number of subjects taught, including accounts and other business related courses," he says. Mulli says plans are under way to start a nursing college and referral hospital. "The facility will care for people who get injured in accidents along Thika-Garissa Road," he says.