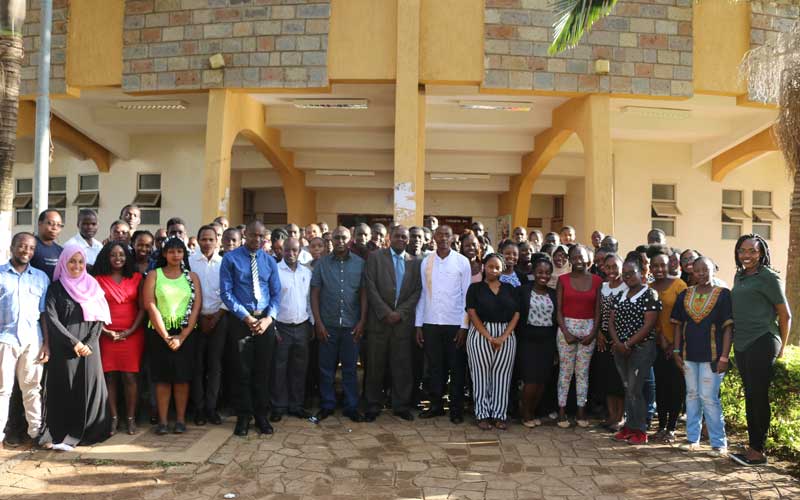 Students pursuing Bachelor of Pharmacy at Jomo Kenyatta University of Agriculture and Technology, have been challenged to sharpen their writing and research skills by exploring publishing opportunities in reputable journals as a way of developing a competitive career profile that will set them a cut above the rest in their quest for career growth.
Speaking to School of Pharmacy students and faculty, Friday, November 3, 2019 during the Pharmaceutical Journal of Kenya (PJK) seminar presentation on Journal Publishing, the Chief Guest, Dr Peter Mwangi Mugo, a researcher at KEMRI and member of the editorial board of PJK, further said, published research findings could help policymakers in implementing findings that provide solutions that could shape the country's healthcare system.
Publishing in recognized journals accords one a rigorous platform to share research outputs, contribute to knowledge production, besides the opportunity to impact policy in the healthcare system in the country particularly if the research output reveals findings that have policy implications that may lead to the redefinition of practice.
Dr Mugo urged pharmacy students to consider submitting their research papers to the Pharmaceutical Journal of Kenya for publication, noting, his main objective was "to create awareness amongst students about the Pharmaceutical Journal of Kenya and journal publishing process." The journal is posted by the Pharmaceutical Society of Kenya, a professional body for players in the pharmaceutical industry.
During the career talk, Dr Mugo shared important tips and the steps that students intending to publish in journals need to be conversant with particularly submissions targeting PJK, where he serves on the editorial board.
Read More
Members of faculty who were present included; Dr Isaac Kimani, Dr Bonface Thuo and Dr Godfrey Mayoka.
They gave useful information that will enable students to be attuned to the rigours and politics of journal publishing and urged them to work closely with faculty.
The Dean, School of Pharmacy, Dr Alex Kigundu, appreciated Dr Mugo for accepting to come to JKUAT to speak to the school of pharmacy students, noting, "the world is moving into research" and the journal publishing skills were critical to the students' advancement.
Dr Mayoka reminded the students: "If you want to be successful, you have to stand on the shoulders of giants, that's the opportunity provided by the career presentation today."
He also cautioned students against falling prey to the allure of getting hooked to publishing opportunities presented by "predatory journals" that are not keen on advancing knowledge production and research.
Mbau Gitau, a finalist pharmacy student reflected on the steady growth of the School of Pharmacy and appreciated the faculty for providing solid guidance and support to students who showed great interest in the manuscript submission process, writing, developing objectives, abstracts, title writing styles as well as impactful discussion of research findings.