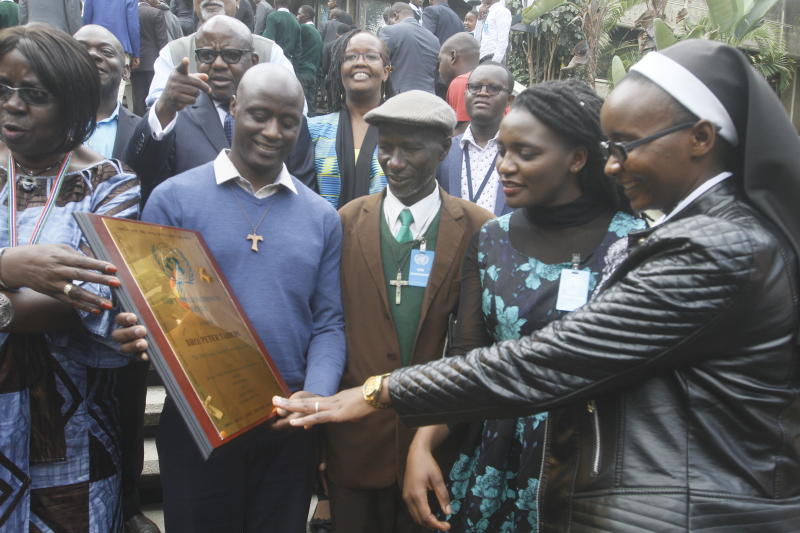 Peter Tabichi, who was crowned this year's world's best teacher, has been named the United Nations Person of the Year in Kenya.
The 36-year-old math and physics teacher, who is fresh off scooping the Global Teacher Prize, attributed his latest recognition to the achievements of his students, saying they have elevated him to national and global fame.
Read More
He added yesterday that the award was not only for him, but also for his fellow teachers who have supported him.
"I never knew such a thing would ever happen. This award is not about me but all teachers and other people around the world who keep shining light upon their work," said Tabichi.
Remote village
The teacher, who was raised in a remote village in Kisii, said the students he teaches face the same challenges he went through as a student. He advised teachers not to wait for higher positions to attain greatness.
The Keriko Secondary School tutor urged his colleagues to put passion, desire and love into their work.
He said, from experience, he has proven that students can succeed in science and technology even with few resources.
Education Principal Secretary Belio Kipsang, who presented the award to him, said Tabichi has been an exemplary illustration of diversity among Kenyans.
Dr Kipsang lauded the teacher for breaking border barriers by moving from his Kisii home to Nakuru where he sacrificed 80 per cent of his salary to support students.