Varsity launches laptops, servers made at its plant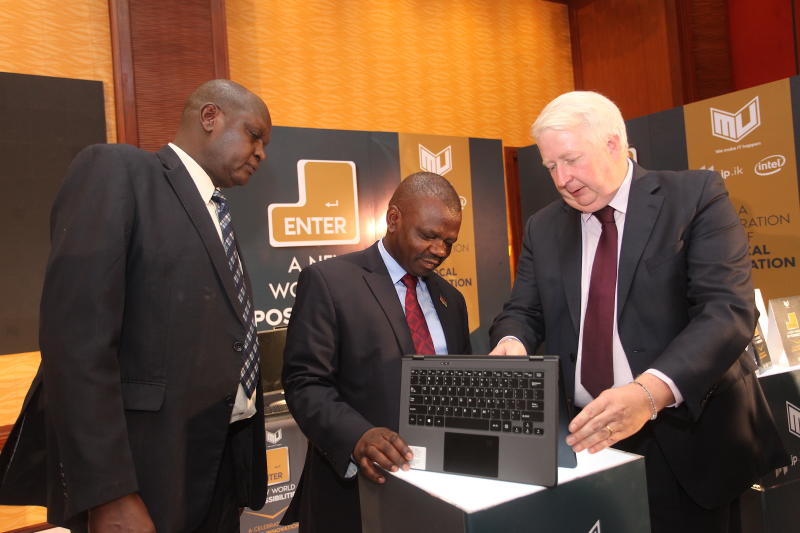 A range of ICT devices assembled at Moi University's Rivatex Complex in Eldoret town were unveiled yesterday.
The devices, launched under the brand name MU, consist of desktop computers, laptops and servers.
The university and Jp.ik, a Portuguese ICT company, jointly invested more than $5 million (Sh500 million) in the assembly plant, MU Technologies Digital Assembly Plant.
The facility has the capacity to produce 4,500 devices per day, translating to more than 100,000 devices a month.
According to Nick Broda, the head of worldwide sales for Jp.ik, the Eldoret-based company has the capacity to directly employ 300 people and 3,000 people indirectly during peak production.
"With the world changing technologically at such a fast rate, the job market is going to demand new skills. This plant is going to address job creation in the digital economy," he said.
Mr Broda also noted that the initiative, through the goodwill of the Government, will oversee ICT products that are Kenyan made and based on customer demands.
Susan Mbogo, the general manager for Intel in East Africa, said the plant was necessary in preparing students for next-generation jobs.
"It is part of our mission to ensure each child is 'innovation ready' in order to add value to their existing skill," Ms Mbogo said.
Moi University Vice Chancellor Issac Kosgey said the Digital Assembly Plant was officially inaugurated this year by President Uhuru Kenyatta, and has so far assembled 150,000 ICT devices for the Kenya Digital Literacy Programme.
A further 70,000 tablets for the recent Government census were also a product of the assembly centre.
"As a university, we are proving that Kenya has the skills and capacity to build local technology that can compete on a global stage," Prof Kosgey said.
Support firm
Also present at the launch was Ministry of Information, Communication and Technology Principal Secretary Jerome Ochieng.
"It is our joy and pride as a Government when we see local universities taking up the challenge of growing manufacturing in this country, which is one of the pillars in our Big 4 Agenda," he said.
The PS asked Kenyans to buy the locally assembled computers, and called on county governments to support the initiative and order their ICT devices directly from the MU Digital Assembly Plant.