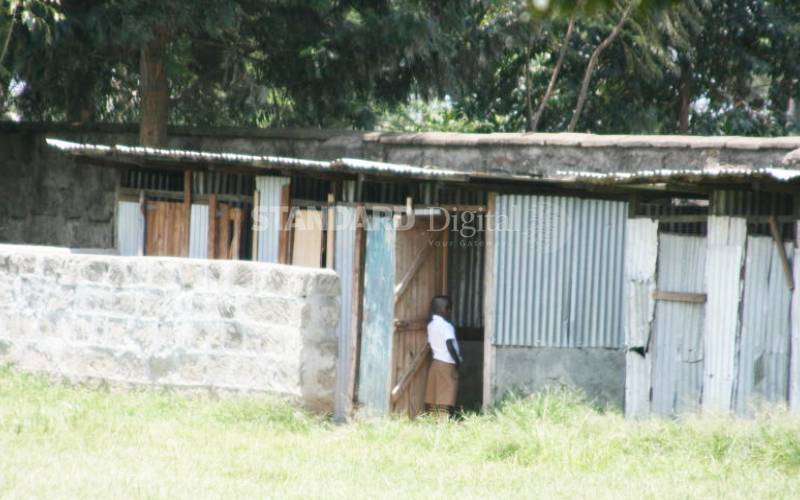 It is a chilly Monday morning. Pupils rush to the toilets to relieve themselves after "assembly" in readiness for the day's lessons at Mirugi Kariuki Primary School in Nakuru County. The queue at the pit latrines is long, forcing them to wait. As they wait, the first lesson of the day that takes 30 minutes is ongoing. There is a single block of seven toilets for girls at the school and another of eight doors for boys at the public primary school with an enrollment of 1,194 pupils. School deputy head teacher Grace Waweru informs The Standard that shortage of toilets highly affects learning because most pupils spend lesson time stuck in the queues.
Most affected
SEE ALSO: Teachers get more hospitals in medical scheme
Mondays and Fridays are the most affected, being assembly days. "These are young children who must relieve themselves before attending lessons. If they do not, some always relieve themselves in classrooms," says Ms Waweru. She adds: "It is sometimes so hard for us to retain learners in classrooms, and first lesson is mostly affected with irregular movements to and from classrooms." The school is also congested. For example, there are 160 pupils in Class Four, making it difficult for teachers to control the class. The school has been forced to create an alternative iron-sheet classroom to accommodate the learners. There are 25 tutors employed by the Teachers Service Commission (TSC).
SEE ALSO: Pay CBA deal or brace for war, Knut tells TSC
"Each classroom has an average of about 70 pupils. It is sometimes hard to handle each learner, more so the slow ones because they require more time, yet every lesson is only 30 minutes," she says. Mirugi Kariuki is not the only school facing the sanitation problem because of the high enrollment attributed to free primary education. Most public primary schools in the county are strained on infrastructure, especially the sanitary ones and classrooms. Gwatanio Primary School in Njoro also faces the same sanitation problem. Here, the ratio of toilets to pupils is 1 to 100, according to the school head teacher Kihara Mwangi. The school has an enrollment of 1,324 pupils in primary school section and 170 at pre-primary, all who share the few available toilets.
SEE ALSO: Time is of essence in fixing discrepancies in teachers' earnings
Mr Mwangi informed The Standard that they faced a shortage of at least 10 toilets for girls, while boys required six toilets. "The school faces acute shortage of sanitation facilities for boys and girls, an issue that continues to bite following high enrollment," said the teacher, adding that they don't have money to construct additional toilets. At times pupils queue at the toilets during break time and some delay to report back to class because they take longer to access the facilities. St John's Primary School has also been issued with notice to provide adequate sanitary facilities and decongest pupils by providing extra classrooms to required standards. The school has 1,600 pupils, with only 20 toilets, an issue that creates fear of learners contracting diseases such as pneumonia, cholera, dysentery and others linked to poor sanitation. "Due to inadequate sanitary facilities within your school, which is injurious and dangerous to health, a nuisance contrary to the law, we do hereby require you to within 21 days abate the same," reads the notice issued by the Department of Public Health. Lenana Primary School in Nakuru town is also facing closure due to acute shortage of toilets. A visit to the school revealed that some learners defecate along the perimeter wall at the school for fear of the deplorable state of the toilets. The school has a single block of filled up temporary pit latrines used by boys. Girls' toilets are also in a deplorable state, some seemingly likely to cave in any time.
New block
There is a new block of modern toilets, but it is not in use, as its construction design has been condemned by the Department of Public Health. The situation is not different at Baharini Primary School in Nakuru Town East. At the school that was constructed during the colonial period, toilets are pathetic, with some already caving in. Learners, however, still access them for lack of alternative facilities. Elijah Njoroge, a parent at the school, says the toilets were constructed in 1947, with the newest block having been constructed at least 20 years ago. Rift Valley Education Director John Ololtuaa admitted that some schools had infrastructure and sanitation problems due to high enrollment following the advent of free primary and day secondary education. However, Mr Ololtuaa said the Government allocated money for repair and maintenance for every pupil and student, money that schools are expected to spend on projects such as, improving infrastructure and sanitation.