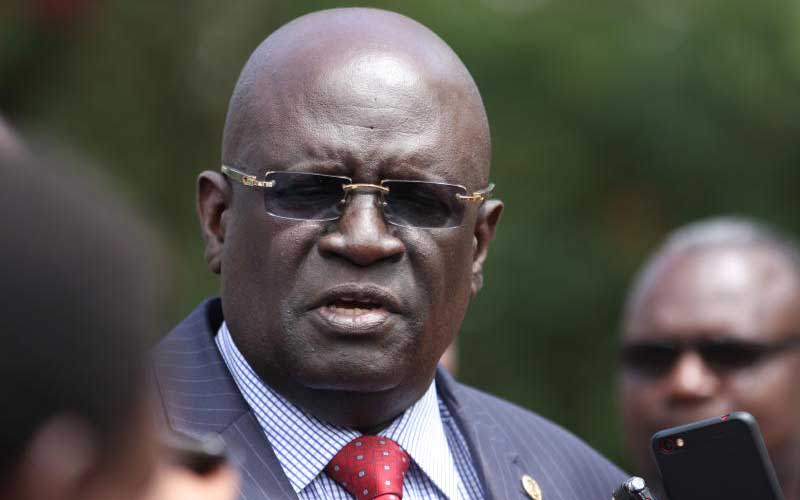 With the question of national examinations resolved and location of junior secondary schools settled, focus now turns to the finer details of transition under the 2-6-3-3-3 education system.
Smooth movement from primary to secondary schools still remains a concern, with parents and education players calling on the government to address the gray areas.
At the centre of the dilemma is the system the Ministry of Education will use to place primary school leavers to secondary schools, infrastructure needs and the teaching force required to take up lower secondary schools.
Presently, the ministry uses affirmative action, students' school choices and performance merit list as part of the selection criteria to secondary schools.
Sunday Standard has established that the big responsibility of ironing out the sticky issues has been rested on the task force set up by Education Cabinet Secretary George Magoha.
Read More
Kenyatta University Deputy Vice Chancellor in charge of Administration, Prof Fatuma Chege, chairs the team expected is to arrive at a formula that will enable smooth transition of all primary pupils in the absence of examinations.
Every year, the existing 9,000 secondary schools absorb nearly one million pupils from the 23,000 primary schools.
The anticipated mass transition has, however, raised the question of infrastructure needs to accommodate the learners.
On Friday, President Uhuru Kenyatta said implementation of the new curriculum will not stop because of inadequate infrastructure.
"I rather they (pupils) be under a tree rather than being in streets sniffing drugs. Gradually, we will get the infrastructure needed," said Uhuru.
Stakeholders who attended the just-ended curriculum conference proposed that national schools be converted into centres of excellence where special talents will be nurtured.
The new curriculum guarantees to eliminate wastage as all children will transit to next class and career paths – arts and sports, social science and STEM – created at secondary level.
Also floated on the sidelines of the conference attended by about 2,000 stakeholders was the proposal that all extra-county schools be set aside to admit junior secondary school students.
Another proposal was also fronted calling for each of the major schools – national, extra-county and county – to create a stream that would be converted into junior classes.
Presently, secondary schools are categorised into national, extra-county, county and sub-county schools.
Latest data from the ministry shows that the 113 coveted national schools have a total capacity of about 30,000.
The 531 extra-county schools have 123,000 spaces. The 1,031 county schools have about 142,359 slots.
Majority of secondary schools slots are in the 7,325 sub-county schools, (day schools) with a capacity of 685,590. The 32 special needs schools have a capacity of 1,453.
Private schools can absorb a maximum of 70,000 into secondary schools.
Sunday Standard has established that all the junior secondary schools will be days schools, which means that even boarding schools may admit day scholars.
Major question
The other major question that the task force will confront is the teaching staff that will take up the lower secondary schools pupils.
It emerged that curriculum designs for the three classes will determine whether some primary school teachers will be deployed to support the level of learning.
It is also not clear whether the existing secondary school teachers will be deployed to teach in lower classes or whether a completely new set of teachers will be hired to teach the classes.
The Teachers Service Commission is already recruiting 5,000 new teachers to support the 100 per cent transition.
Among these will be 4,000 to teach in high schools.
TSC Chief Executive Officer Nancy Macharia said Sh1.2 billion had been allocated to hire intern teachers.
It is expected that up to 80,000 intern teachers will be hired this financial year. It is not clear whether some of the intern teachers will be hired to teach in the secondary schools.
Magoha asked the task force, which includes top ministry officials, the church, educationists, curriculum experts, teachers associations and civil society to advise on transition of Grade Six cohort of CBC to Grade 7, 8 and 9.