Secondary school heads mull dropping union posts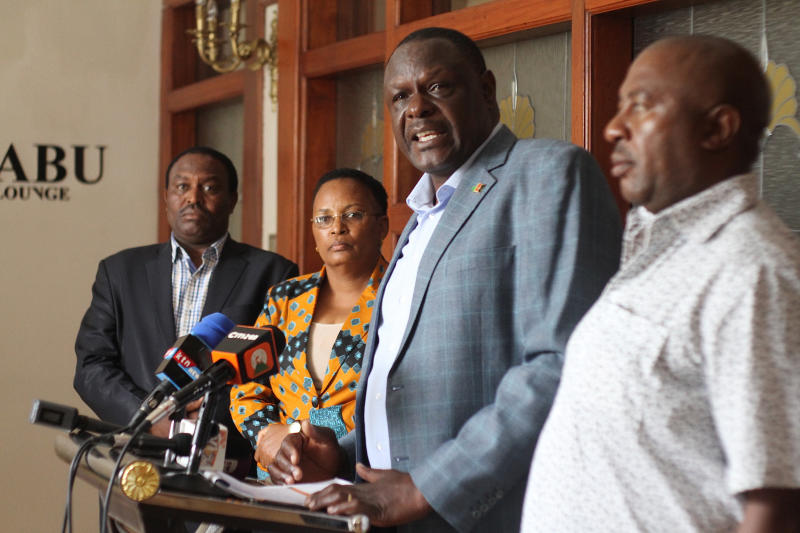 The Kenya Secondary School Heads Association (Kessha) leadership has advised its members not take up leadership at teachers' unions.
The surprise development comes as teachers associations mounted a strong opposition to the push by Kenya National Union of Teachers (Knut) in defending their plight.
"We wish to advise you to not take up union leadership but remain in unions. Administration of schools is vested in Boards of Managements (BoMs) where we sit," Kessha chairman Kahi Indimuli said yesterday.
He said in the event a case is presented in school touching on the discipline of a teacher and the principal is a union member, it would be challenging to execute the case.
"Schools are run by BoMs and we sit in those boards as secretaries. There are potential conflict of interest which may compromise our professionalism," he said.
Kenya Primary School Heads Association (Kepsha) was the first to disown the fruits of Knut's struggle, saying they stand with TSC.
"We wish to categorically state that we are not party to the petition and have never been consulted on the same," said Nicholas Gathemia, Kepsha chairman.
Gathemia said heads do not need anyone to speak for them on some of the professional matters, including promotions.
"We are under a performance contract …and as such we will not entertain anybody or a group of individuals who may purport to represent us," Gathemia said.
Knut Secretary General Wilson Sossion has dismissed the opposition to a court ruling on teachers' promotion, union membership and transfers, saying the union will not relent on its fight.
"We will defend the court findings and determinations with our lives. TSC should stop inciting teachers," Sossion said.
Indimuli said Kessha firmly supports the employer to seek stay orders in the recent court judgment that has put Knut and TSC on a warpath.
He said secondary school heads support TSC's appeal against the judgment that "set aside career progression guidelines".
"These are the tools that teachers in administrative positions were being promoted based on. Reversing implementation of these tools negates the gains already achieved," Indimuli said.
He said principals were merely deployed under the old regime and that the new guidelines saw heads competitively appointed.
Indimuli said the various groups have interpreted the court ruling to suit their standpoints. "Judgment has been interpreted depending on one's wish. It was a weak judgment and it requires further relooking at. And that is why we join TSC in asking for a stay."
This comes as Knut wrote to TSC to convene an urgent meeting to discuss implementation of the contentious labour court orders.