Uproar over plan to overhaul teacher training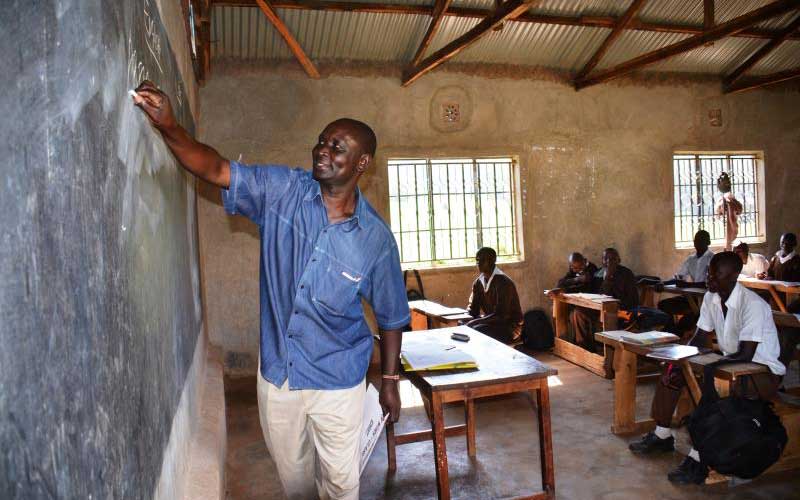 The government last month announced plans to replace the Bachelor of Education degree with a five-year training programme that will see teachers certified by a proposed Kenya School of Education before they are employed. Education experts have criticised the proposed programme as a waste of resources, saying there are better ways to address challenges facing teacher training in universities.
Daniel Sifuna was one of 40 students who graduated with a Bachelor of Education degree at Makerere University in 1971. The 40 graduands were drawn from Kenya, Uganda and Tanzania.
Makerere had just been upgraded from an external college of the University of London to an independent university.
Other universities in the region included the University of Nairobi, which trained veterinary scientists and engineers, and the University of Dar es Salaam where those with an interest in law, statistics and social sciences were admitted. It was a time most African countries were witnessing a rapid expansion in education to fill up positions that were left by the colonial powers.
Due to a shortage of secondary school teachers, not many Africans were able to go past primary school in the then 7-4-2-3 education system that had been crafted shortly after independence.
In fact, Burudi Nabwera, a politician and former ambassador to the United States, in his book, How it Happened, notes that after independence, most Kenyans called it a day after the first seven years in primary school where they were taught by anyone who had accepted Christianity even without proper training as a teacher.
Sifuna says demand was high for Africans who went to secondary school and proceeded to university to train as teachers.
"There was a serious shortage of teachers. Out of the 40 students who graduated from Makerere University with a degree in education, only a few were Kenyans," he says.
He adds: "The greatest gap in education existed at secondary level because there were not enough secondary schools to cater for the large number of students who had gone to school shortly after independence."
He says the British, in a bid to increase access to education by Africans, were looking to replicate the teacher degree programme in London at Makerere.
The British would, however, settled for Bachelor of Education programme in which students learnt basic content in their teaching subjects alongside methodology. The other option, which the British found to be expensive, was to learn the two separately.
But now, the 47-year-old Bachelor of Education degree could be phased out, to give way for a five-year training programme that will see students learn content and methodology separately.
According to the proposal made by Education ministry last month, secondary school graduates looking to join university will enroll for a four-year training in either arts or sciences before proceeding for one-year postgraduate diploma training at a proposed Kenya School of Education (KSE).
In a system that borrows from the training of lawyers, the graduates will only be hired as teachers on successful completion of training and certification at KSE.
But what would the proposed programme offer that the existing programme doesn't? Who will teach at KSE and what will happen to graduates who fail the diploma tests at the proposed graduate school?
An official at the Ministry of Education was cagey on the details of the proposed changes in education.
"There is no tangible information about the plans to phase out the Bachelor of Education programme at the moment. But it is something the ministry has been mulling over for a while," said the official, who requested not to be named as he is not allowed to speak on behalf of the ministry.
The announcement has elicited mixed reactions from education stakeholders.
Nothing new offered
Prof John Habwe, an associate professor in the Department of Kiswahili at the University of Nairobi, says the Bachelor of Education is already a specialised programme that should remain the way it is.
"I wonder what they will introduce during the one extra year because as it is, BEd is already a specialised programme offering professional courses. We can only hope the programme won't be replaced with something general," says Prof Habwe.
He says BEd has been the cheapest and most organised teacher training programme, with students taken through theoretical training followed by practical experience in the field.
He says students are then allowed to explore the challenges experienced in the field in the final year of study.
Daisy Gichovi, a final year education student at Kenyatta University, says the proposal is good if implemented well.
"It will also depend on what happens at the school of education. If it is more theory, they better forget it because we are already doing a lot of that at university," says Gichovi.
Gichovi says the government should incorporate a lot of practical work during the one-year of postgraduate training to equip trainee teachers, offering more practical skills.
The Ministry of Education has faulted teachers for their lack of classroom skills. "The most important thing about teaching isn't what you teach but how you teach it," says the official mentioned earlier.
The officer adds: "Today we have teachers who lack the science of transferring knowledge to students. We have teachers who stand in one spot in the classroom and talk to themselves instead of engaging students in the learning process. We also have teachers who move with a few fast learners and ignore the rest of the class. This isn't proper."
He says trainee teachers need adequate time to concentrate on teaching methods as envisioned in the five-year education programme.
Dr Onesmus Thuo, who has specialised in educational planning and economics of education, says the proposed five-year teacher training programme could be a game-changer.
"The programme will restore the image of teachers. Just like doctors, engineers and lawyers, those who go through the Kenya School of Education will become more respected teachers," says Dr Thuo.
He says that for a long time, teaching has always been "despised" right from secondary school where not many students opt for the teaching profession while selecting university courses.
But Dr Chrispus Wawire, who teaches educational psychology at Kenyatta University, isn't as hopeful about the proposed teacher training programme.
"Nothing will change. The only way to raise the status of the teaching profession is by giving teachers good salaries and not increasing the number of years they spend in school. As long as teachers still live like paupers, no one will respect the teaching profession," says Dr Wawire.
Elvis Opiyo, a second year education student specialising in English Literature at Maseno University, says a new teacher training programme won't offer anything new.
"What problem will it be solving? Definitely not incompetence of teachers. We already have competent teachers whose only challenge is finding a job," says Opiyo.
He says that some people who graduated in the field five years ago are yet to be employed by the Teachers Service Commission , underscoring the need for the government to tackle unemployment among graduates. Prof Sifuna, a doctor of philosophy in Kenyatta Univeersity's (KU) Department of Educational Foundations, feels the proposed education programme is baseless.
"The ministry first needs to point out the weaknesses in the existing programme before coming up with something else. Otherwise, we'll end up making the same mistakes we have always made in the sector by passing directives without proper research and public engagement," says Sifuna.
Poor timing
"We are biting more than we can chew," says Opiyo, the vocal education student.
He faults the Ministry of Education for introducing new directives when there is already disagreement on existing ones.
"The competency based curriculum is just being implemented amid confusion and disagreements between stakeholders. This isn't the time to start talking about new proposals in the same ministry," he says.
His sentiments are echoed by Kenya National Union of Teachers Secretary General, Wilson Sossion, who says the education sector isn't ready for what he terms as ill-informed edicts.
"We can't pretend to move on in the education sector while the entire system is in shambles. A plan to replace BEd with something else is related to the CBC (competency based curriculum), which we have issues with in the first place," said Sossion.
Sossion says the union will oppose government directives that they are not consulted about.
Expensive
Dr Wawire finds the proposed five-year programme unnecessarily expensive. "Introducing more years in school will not just be a waste of time, it will also be an extra burden to parents who are already struggling to take their children through the four years. It is already very expensive for BA and BSc students who go back to school seeking to be teachers," says Dr Wawire.
He says students who take Bachelor of Arts (BA) and Bachelor of Science (BSc) courses pay an extra Sh75,000 or more when they enroll for professional courses in teaching at the university. The amount, he says, is high for students who come from poor backgrounds.