Quest for education: Why Gakii went back to school after 26 years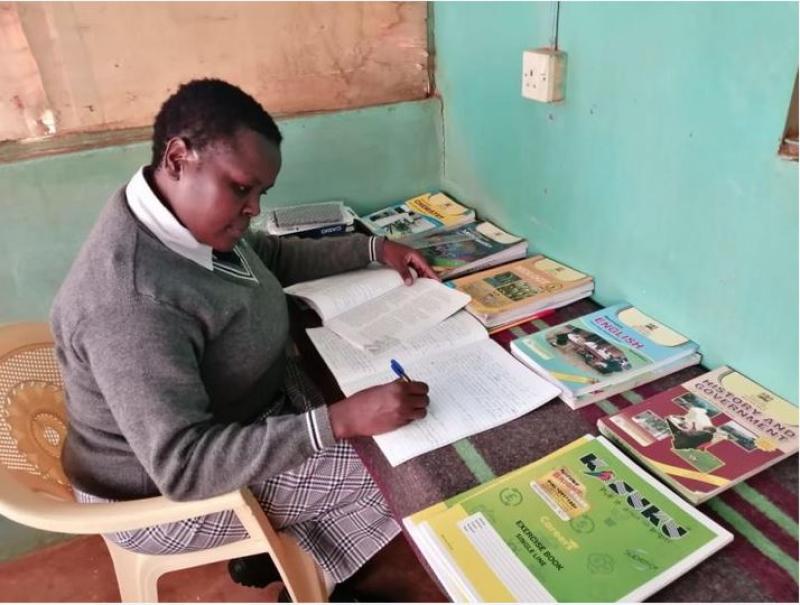 She is proud to be the oldest student in the region, older than her teachers and some parents.
After years out of class, Gladys Gakii, 43, is now a Third Former at Kiamuriuki Secondary School in Tharaka Nithi County.
We went to her home in Mwiria village, Maara Constituency, and found her in full school uniform.
She ushered us into a quiet room with two plastic chairs and a wooden table covered with a blanket, text books, a calculator, ruler, pens and a Bible.
"This acts as my classroom. Since schools closed I spend all my mornings here perusing through these books with my teacher," she says.
Gakii says she always wanted to be educated and get a job so she can be independent. She talks fondly of her two former classmates who she says are now doing well.
One is a teacher at Chogoria Girls High School, while the other a Catholic priest.
"We used to compete for positions one, two and three. I was the only girl in the class who always made it to top 10," she recalls as she holds a revision textbook sent to her by a teacher at Chogoria Girls'.
Her education was cut short by an incident that left a permanent scar in her life. She was gang-raped at 16 and her then guardian withdrew education support.
"Many years after dropping out of school, I have always wanted to go back. Many of my friends ask for my certificates to help me get a job but I have none," she says.
Gakii dropped out of secondary school 26 years ago. She says she was born and dumped at River Kathita in Meru town.
She was rescued by well-wishers and taken to a hospital in Meru town where a nurse adopted her after she stayed at the facility for months without anyone claiming her.
Withdrew support
The nurse took her to Kireru Primary School where she scored 472 out of 700 marks in the Kenya Certificate of Primary Education exam of 1990, and was admitted to Chogoria Girls' High School.
However, she dropped out after the first term due to lack of school fees.
She later joined Gikurene Day Secondary School up to Form Three, where she dropped out again in 1993 when her guardian withdrew support.
Gakii later got a job at a hotel in Kionyo market on the outskirts of Nkubu town where she managed to save Sh48,000.
With the savings, she took over the hotel business in 1998 when her employer was unable to run it.
The business thrived and she expanded it.
"This was the first time I rented my own house and bought my own things, I started doing well," she says.
In April 2013, her business was on its knees. She was in debt and in May that year, a bank auctioned her property. Gakii could not handle the loss, she lost her mind.
She was later found wandering in Nkunga Forest along Meru-Nanyuki road by people who positively identified her.
"I was taken to Sunrise Medical Centre at Nkubu and referred to a mental facility in Nakuru," she says.
After she was discharged, she got a job as a barmaid at Marima market and rented a single room.
"It's not once that I have attempted suicide," she says.
While working at the bar, Gakii joined a prayer group on WhatsApp and shared her story. "This was my turning point, God used the people in the group to change my life for the better," she says.
Without parents and a place to call home, she knew education would be her only source of redemption.
When a UK-based pastor read the confession she had posted on the WhatsApp group, she offered to help her heal psychologically.
"The pastor paid all my rent arrears and sent me some cash for upkeep," she says.
The pastor later connected her to a Kenyan pastor in Mombasa who later connected her to the family she currently lives with in Maara Constituency.
When Rev Anna Makena of Deliverance Church Mwiria asked Gakii about her wish in life, she boldly said education. Rev Makena took her to Kiamuriuki Secondary School in February this year.
"As we waited for her to be admitted, students and parents would ask her whose mother she was in the school," says Makena says.
She says she has no budget for the school fees and did not clear Gakii's first term fees. She appeals to well-wishers to help Gakii through her secondary education.
Gakii says her school days are full of fun as the students and teachers have understood and accepted her.
"Sometimes teachers find it hard to order me around to do assignments but I always tell them to treat me like any other student," she says.
School Principal Rachael Koome says Gakii has high self-esteem and has adapted well to the school system.
"I have very high hopes in her, we did not rank her this term but she is proving to be bright and determined," says Ms Koome.