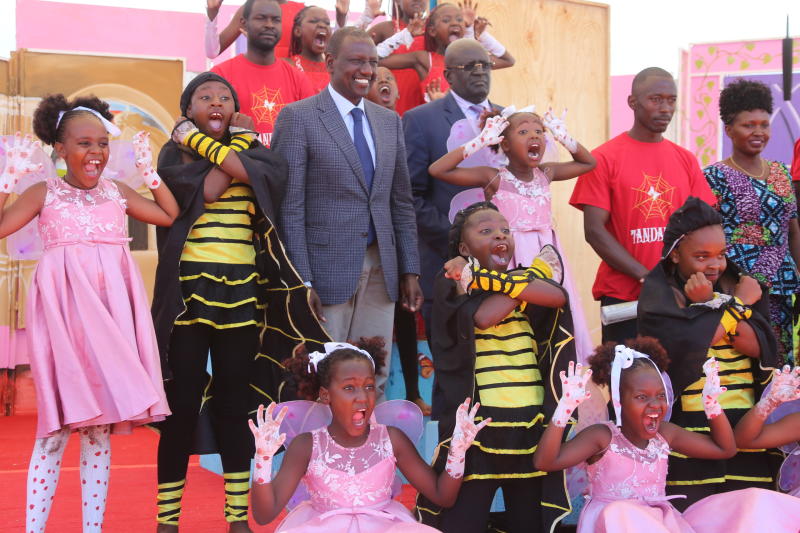 As curtains came down on the 60th edition of the annual Kenya Schools and Colleges Drama and Film Festival at Kibabii University, focus shifted to the big question no one was willing to ask: What next after the festival that brought out so much talent?
In recent times, there has been token response to this question from different quarters, including establishment of the Kenya Film School that would train stand out performers from the festival into professional filmmakers.
During the gala performance yesterday, Deputy President William Ruto noted that it would be a disservice to the young thespians if their talent was not nurtured.
"Why are we still watching movies of witches and witch doctors on our screens when what I have seen here is far much superior than what we watch on our TV every evening?" he said.
Stumbling block
The Deputy President said the creative industry can create nearly 500,000 jobs every year, but lack of clarity on what ought to be done to promote it has been a major stumbling block.
This year's roll-out of the Competency Based Curriculum (CBC) came as a major relief and brought renewed interest to teachers and players in the education sector.
"The new curriculum is geared towards forming an all-rounded child. It will allow children moments to grow in their creativity," Ouma Jwan, the executive director of the Kenya Institute of Curriculum Development (KICD), said.
KICD sponsored this year's festival.
According to Kimingichi Wabende, the head of drama and theatre at the University of Nairobi, the institution has welcomed the CBC because it is going to promote talented and creative students who will then join the university not as starters but learners who have already seen the arts as a career path.
"The CBC will not only help the child develop psycho-motor skills, it will also accord them the opportunity to realise at an early stage where talent is," said Dr Kimingichi.
One big worry about the CBC though is the concern that teachers may not be ready to teach it as its envisioned.
But Dr Jwan was confident that the new curriculum will be successful as it is being rolled out at the lower levels of basic education.
"We are going to train more than 91,000 teachers this week and this will go a long way in supporting the programme. Sceptics of this programme are in for a big surprise," said Education Cabinet Secretary George Magoha.
Prof Magoha challenged organisers of the annual festival to make into a movie this year's winning play by Riara Springs, Camels of Tarjab, warning that if they don't, Nigerians will.
Creative economy
Yesterday, the DP gave Magoha a 30-day ultimatum to come up with a policy framework and establish a national creative economy body that will help turn talent into business.
"I know you are able and I am sure that if it is not done within the time period, it will be because you have refused to do so," he told the CS at Kibabiii University.
He said the creative industry can play a major role in job creation, saying up to half a million jobs can be created.
A recent research showed that Kenyan youth prefer arts courses to science ones, a trend partly attributed to interventions that were lacking 10 years ago.
Kenyatta University, Maseno University, Multimedia University and the University of Nairobi responded to this study by introducing performing arts diploma and degree courses.
But lack of arts infrastructure has hindered the growth of art as a career choice for many.
"We ask the county governments to build and construct theaters across their spaces since the arts has now become a devolved function of government," pleaded Christopher Odhiambo, the national chairman of the festival.
Prof Odhiambo, who is the dean of postgraduate studies at Moi University and a professor of drama, asked the government to allocate more funds to improve spaces that could allow artistes and thespians to grow the entertainment business.
Already, the Kenya National Theatre -- a key cog in nurturing and promoting art -- has been refurbished at a cost of Sh100 million. Now, the tehatre boasts full booking round the year.
Cultural and art performances are also being devolved to the counties.
"We have embarked on a poetry programme throughout the country in a bid to have the Kenya Cultural Centre devolved from Nairobi to the counties," Nicholas ole Moipei, the former chairman of the Kenya Cultural Centre, said.
Mr Moipei praises the Kenya Music Festival for offering a fertile breeding ground for young music talents.
But the elephant in the room remains the fact that artistes have been exploited either though piracy, low pay or no pay at all.
"We have agreed with the Kenya Copyright Board that we will become more ruthless about pirates for they stifle creativity and push our artistes to abject poverty," said Ezekiel Mutua, CEO of the Kenya Film and Classification Board.