Failed uptake? Few trained teachers and gadgets hurt digital programme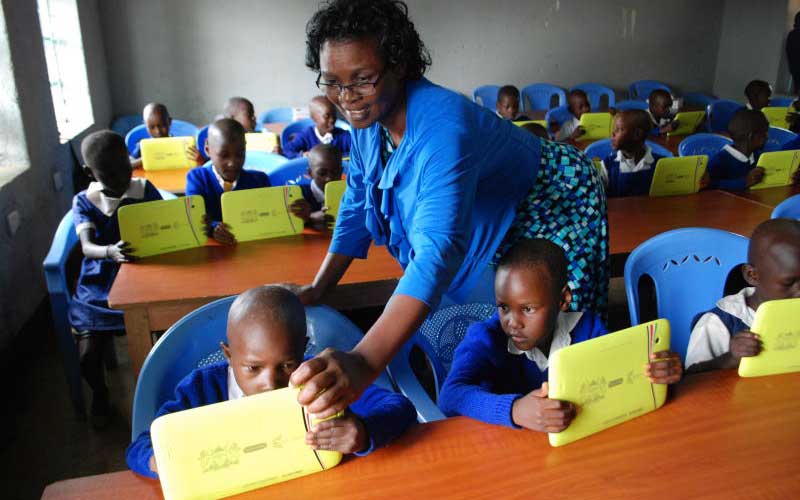 Brendan Gitonga and Shakira Ntinyari, both in Class 5 at DEB Township Primary School in North Imenti (Meru), are all smiles as their teachers take them through a lesson using tablets, courtesy of the national government's digital learning programme.
Though Brendan and Shakira have had fun learning with the tablets, the school's deputy head teacher Tryphosa Kaberia said the 40 gadgets are not enough for lower primary pupils.
Ms Kaberia noted that the school has a total of nine teachers who are overwhelmed by the workload.
"We desperately need more teachers because the workload is heavy," she said. Two teachers were trained and tasked with implementation of the digital learning at the school.
"We received the gadgets which were supposed to be used by pupils in Class One, Two and Three. But they are only enough for one class, so we have had to have them alternate. We need more because the workload is huge," she said.
Anne Mutai and Lucy Mithika, the teachers who were tasked with taking the pupils through digital learning, said the lessons have been exciting and have exposed the learners to new technology.
But the teachers said the training was not adequate to allow full implementation of the programme.
"We need more training to be able to adequately integrate digital learning into the curriculum. Our children are learning fast how to operate the gadgets and tackle lessons in various subjects, but we will be grateful if we are trained further for the benefit of the children," said Ms Mithika.
At Amwamba Primary School in Igembe South sub-county, Elsy Gatwiri who is in Class Two, said she has been using the tablet to take photographs, play music and do exams.
"I am happy with the government because it has made education fun. I am able to type and learn new things fast using the tablet," she said.
But Amwamba headteacher Kithinji Kamui and his deputy Ezekiel Bundi, said that though the 136 tablets they received had transformed learning and made the process fun for the children, they experience challenges of network connectivity.
Mr Kamui added that the poor state of some classrooms exposed pupils to harsh weather.
The headteacher disclosed that health officials had condemned classrooms made of asbestos, warning that they can cause cancer when they disintegrate and are inhaled by pupils. He said 10 teachers were trained on the digital project.
"We have had electricity for 10 years, but the problem we are now grappling with is that of internet connection, which is very slow. The other setback is that we cannot use the gadgets in more than three classrooms at once," he said.
At Kiory Primary School, headteacher Eunice Muthuri said that though they had 37 tablets, the two teachers who were trained and tasked with implementation of the digital learning needed more training.
Like Meru, some schools in Murang'a feel that the tablets that were provided are inadequate to support digital learning.
Digital learning at Thangathi Primary School in Kiharu failed to take off after the government delivered just one tablet for 24 pupils.
The school is also not connected to electricity and relies on solar power.
The headmaster, Evans Thuku, said his concerns have not been addressed despite writing to relevant government offices.
In Kirinyaga County, although all the 197 public primary schools have been supplied with tablets, most of them are gathering dust in stores.
[Phares Mutembei, Boniface Gikandi and Munene Kamau]