Triumph as over 300 students who survived terror attack graduate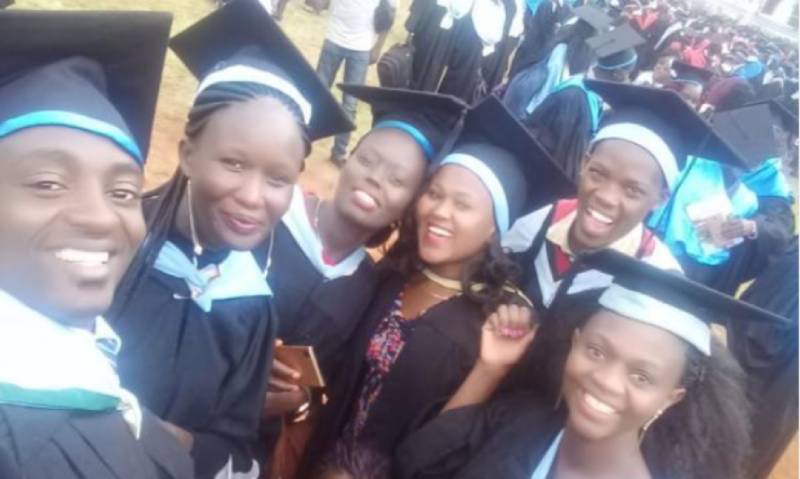 Students of former Garissa University College, a constituent of Moi University who survived the April 2015 terror attack that robbed 148 tender lives, had their moment of glory when they graduated last Thursday.
Some students, who were relocated following the heinous attack were part of 6,495 students awarded degrees and certificates during the 37th graduation ceremony of Moi University at the main campus in Eldoret on Thursday.
The institution's Vice Chancellor, Prof Isaac Kosgey gave a special mention to the resilient students who defied all odds and successfully completed their studies.
"Our graduation list comprises over 300 survivors of the Garissa attack who braved terror and chose to fulfill their dreams.
We thank the government and various donors from other countries who came to their aid through counseling and monetary support. Their selfless assistance has made the students achieve their dreams," said Prof Kosgey.
For Everline Chepkemoi, donning the ceremonial gown was a dream come true.
"I thank God I graduated with a Second Class Honours Upper Division. Life has been a struggle after being attacked by terrorists and at one point I almost lost hope. While in Garissa, we studied hard with our eyes set on the ultimate price," said Chepkemoi.
Loud noise
The 24-year-old from Narok County, who was shot on her left leg as she led her colleagues in prayer on that fateful morning lauded Moi University for giving her a second chance to fulfill her dreams.
"In the middle of the prayers, we heard a loud noise followed by sparks.
That is when the attackers came to our room and started shooting randomly. In the ensuing melee, a bullet went through and shattered my left femur, and I fell on the ground," she said.
She added: "Anyone who was writhing in pain was shot dead, I held my breath, pretending to be dead until the attackers left. Most of the Christian Union members died."
Chepkemoi, currently a mother of one spent two months at the Kenyatta National Hospital undergoing treatment before joining her colleagues in Moi University to continue with her studies.
Daniel Mwangi, 24, also graduated with a Second Class Upper Division in Business on Thursday. He too was a victim of the beastly attack.
"I hid under my bed after gunshots rent the air. I held my breath even as assailants hovered around our room. It was the longest wait - from 5am to 5pm - when the Kenya Defense Forces called out to find out if there were any survivors," he said.
He added: "If all had gone as planned and we had stayed in Garissa, we would have graduated last year. The attack has made us stronger and I am going to further my studies besides engaging in business to better my life."
Christian union
Fredrick Gitonga, also a graduant, was part of the team that shifted from Garissa College to Moi University after the terror attack that robbed him of friends and colleagues.
He vividly recalls that had he not overslept on the fateful day, he would have been among those killed by the militants.
The youthful man who was the Christian Union chairperson says his escape from the jaws of death was because he failed to attend the usual morning devotion.
"I am yet to understand why I overslept on that fateful day; I missed the morning devotion, which I always conducted at the classrooms where my colleagues who assembled, lost their lives," he said.
He added: "I kept praying silently for God to protect me; it was a harrowing ordeal seeing the shoes of the attackers who were in my room, searching for those who may have been hiding. Despite their calls, I did not come out."