Uhuru orders Church sponsorships to schools and lands restored in honour of late Catholic archbishop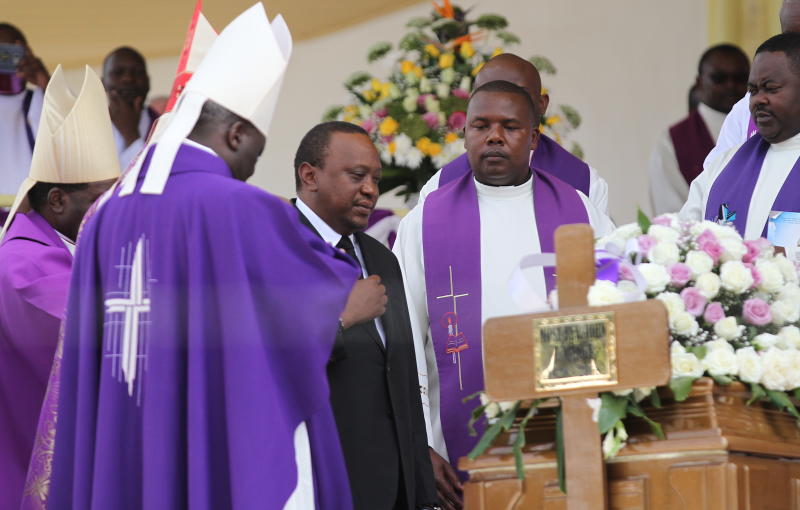 President Uhuru Kenyatta has ordered the Ministry of Education to ensure churches take control of the schools they established.
The President further directed the ministry to restore church sponsorship of schools that traditionally used to be under their care.
"There are many schools built and sponsored by churches. Restore that sponsorship. I have also given one week to restore all Church owned land and schools to their rightful owners," said the President.
Speaking during Archbishop John Njenga's funeral service at University of Nairobi grounds yesterday, the President blamed rising indiscipline among students on lack of church mentorship and guidance.
"Look at the levels of indiscipline cases among students, and some activities that they engage in like burning schools. It shows that there is something missing in their lives," he said. "The churches must be allowed to mentor our children."
Chaplaincies
Uhuru assured the church that school chaplaincies would be restored to mentor and guide students spiritually from an early age.
The President remembered Njenga as a selfless person who was full of humility, a great sense of humour and boundless dedication to improving education.
"Archbishop Njenga was a regular visitor at my father's home in Gatundu, often over matters education. He believed that even though the Church and the State should remain separate, they must work together to improve education," he said.
Deputy President William Ruto echoed the President's sentiments. "We need to revisit the discussion that the late archbishop had started with the Government on improving education and morality of our children," said Ruto.
Close friends and family attributed Njenga's strong desire to better education to his struggles to acquire the same.
"Njenga had passed the common entrance exams and qualified to join the intermediate level in Kikuyu, now Thogoto Scotland Mission Intermediate School. But because his parents were unable to raise Sh100 annual fees, he was taken to Catholic School in Lioki that was charging Sh24 per year," said Bishop John Njuguna at the Holy Family Minor Basilica in Nairobi.