Initiative to fete schools to promote holistic education launched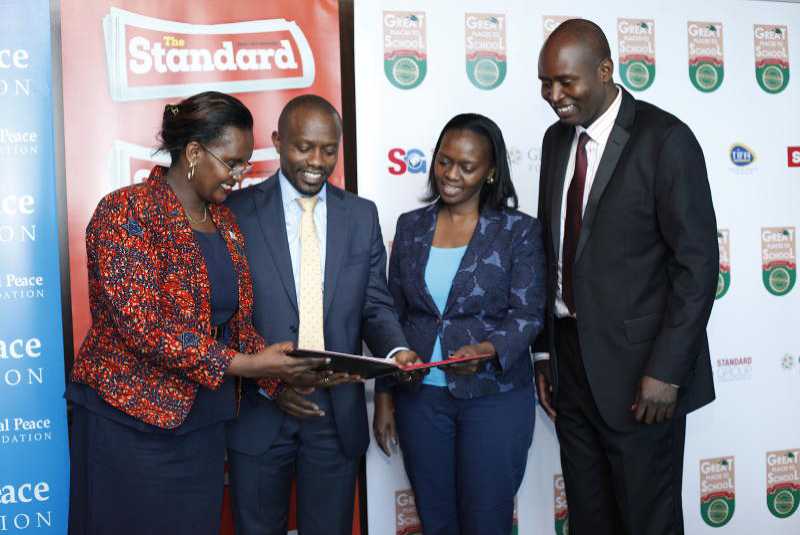 An initiative to change the way of recognising and ranking schools from academic performance to a competencies-based approach is underway.
The Global Peace Foundation, Trends and Insights for Africa (TiFA), the Kenya Private Schools Association (KPSA) and the Standard Group launched an initiative to identify, rate and recognise secondary schools in Kenya with innovative learning environment.
The initiative was launched at The Standard Group headquarters in Nairobi yesterday.
Dubbed the "Great Places to School" initiative, the programme seeks to recognise schools beyond academic performance by rating them based on spectrums such as career development, sport and co-curricular activities, safety and security and STEM education (science, technology, engineering and mathematics).
Entrepreneurship projects, governance as well as character and creativity are some of the other categories in which participating schools can receive recognition for displaying exemplary capability.
The initiative also seeks to influence parents and guardians on the schools they choose to enrol their children for secondary education. The initiative has started off with private schools as a model that will be feted during an award ceremony scheduled for January 2019.
For the schools to be feted, school heads, directors or administrators have been asked to nominate their schools in any of the specific categories before December 31 this year.
Officials of private secondary schools seeking to nominate their institutions are required to fill the online form at www.greatshool.tifaresearch.com.
TiFA will receive the information entered by the administrators nominating their schools and visit the institutions to validate the information and verify if they meet the criteria before the panel scrutinises the forms to declare winners. Speaking yesterday during the launch, TiFA Chief Executive Maggie Ireri assured participants of fair ranking, saying the research would be evidence-based.
Global Peace Foundation Executive Director Daniel Juma said there was a need to transform education to meet the expectations of the 21st century.
"Nowadays the system has changed. Many are graduating and the job sector is saturated. To address the situation, we must prepare students for eventuality; a system that makes job creators rather than job seekers," said Mr Juma.
Education hub
Kenya Private Schools Association Chairperson Mutheu Kasanga said the initiative was a pathway to making Kenya an education hub.
Standard Group CEO Orlando Lyomu and Group Editorial Director Joseph Odindo said the media group was glad to be involved in creating impact in education.
"Future experts in health, food security and other sectors are as a result of human resource who benefit from education," said Mr Lyomu.
Mr Odindo lauded the initiative, saying it would make it possible for schools to offer themselves for evaluation outside the criteria of examinations.