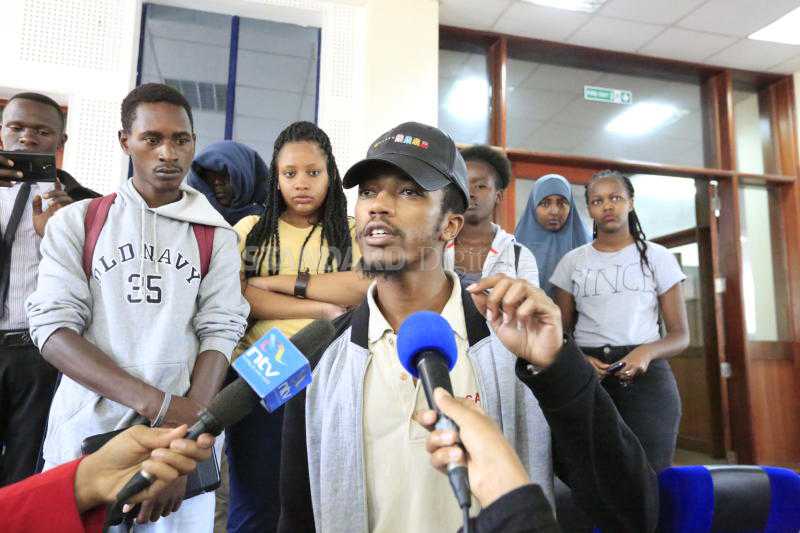 The long-running stand-off between Daystar University students and the management culminated in the closure of the institution yesterday.
A notice of closure signed by the university's acting vice chancellor, James Kombo, directed students in both the Nairobi and Athi River campuses to leave the premises by midday yesterday.
However, some students at Nairobi's Valley Road campus refused to leave, accusing the administration of frustrating them.
"We all want to go back to class. We are tired. We have assignments and were expecting to sit for our exams soon," said Brian Wanjiku, the chairman of the Daystar Academic Excellence Committee.
International students at the Athi River campus were asked to vacate and report to a designated desk by 2pm.
Students at the Nairobi campus fought with police on Wednesday after a meeting between their leaders and the university's senate failed to take place. The meeting was to discuss an audit report on the university's financial management.
Control situation
Kilimani police boss Joseph Muthee said the officers were called in because of complaints of unrest. "We managed to control the situation," he said.
There has been growing unrest at the institution, with students demanding the resignation of Vice Chancellor Timothy Wachira.
Several students who spoke to The Standard said they were tired of the frequent closures of the institution. Over the past five months, Daystar University has been closed three times.
"Whenever anything happens, the university closes instead of confronting the underlying issues," said Wanjiku.
Student unrest appeared to have cooled down since January. However, trouble flared up again on February 15 after an independent investigator submitted a draft of an audit report of the institution to the university's council.
Poor services
The students alleged that there was misappropriation of funds and poor services, and accused the management of disregarding their concerns.
Jomo Gatundu, the deputy vice chancellor for finance and administration, refuted the claims. "The university ensures students get the services they pay for," he said.
Commenting on the report, Prof Kombo said: "We analysed the report through the Executive Committee of the Council and we ensured that the issues raised were taken into account."
Nine-hour meeting
However, he said the council received the final version of the report only a week ago.
The vice chancellor said the council submitted the report to the university on February 8 and that he called students and staff associations to a nine-hour meeting to review it.
"We believed in doing so we were giving the students the report they asked for," said Kombo, adding that he was shocked when the students demanded to see the report. Kombo said showing the entire student fraternity the report would have been a bad idea due to the sensitivity of the document.